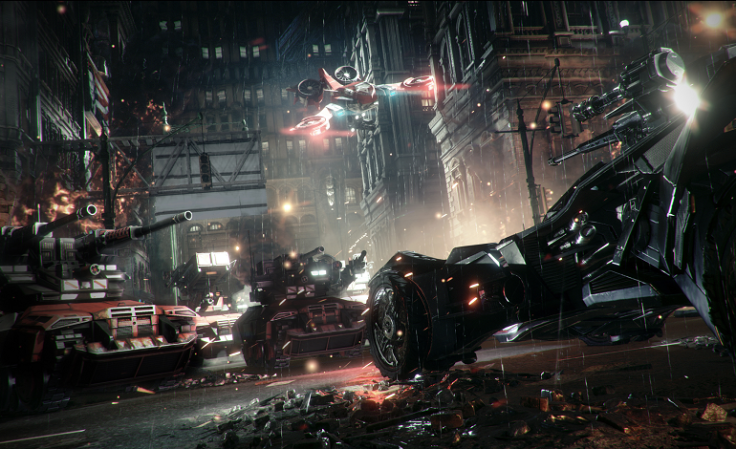 New DLC packs for "Batman: Arkham Knight" have been detailed courtesy of Warner Bros. The company has announced the 1989 Batman Movie Batmobile Pack, which will include skins and the Batmobile from the late 80s film starring Michael Keaton and Jack Nicholson as well as the Bat-Family Skin Pack which includes six different skins for various characters in the game.
Furthermore gamers will get a new mission called "GCPD Lockdown" where you play as Nightwing to stop the Penguin. This update will arrive later in September.
Everything excluding the GCPD Lockdown, 2008 Tumbler Batmobile and the Original Arkham Batman skins will be available to PS4 and Xbox One Season Pass holders today. For those of you who do not have a Season Pass you will need to purchase the new DLC packs for $1.99.
Check out the detailed list of DLC packs coming to "Batman: Arkham Knight" below along with a quick teaser trailer by Warner Bros.:
1989 Movie Batmobile Pack: Battle through the streets of Gotham City with this pack that includes the Batman skin and Batmobile from the 1989 Batman film, as well as two tracks inspired by the film's sequel.
The Bat-family Skins Pack: Included in this pack are six character skins based on the alternate timelines - - 1990s Catwoman, One Year Later Robin, Arkham Origins Batman, Iconic Grey & Black Batman, 1970s Batman and the Original Arkham Nightwing.
Crime Fighter Challenge Pack #1 (Sept. 1): Receive six AR challenges for Batman, Nightwing, Robin and Catwoman. This challenge pack allows focused training in Freeflow Combat and Invisible Predator stealth incursion.
GCPD Lockdown (Later in Sept.): Set after the events of Arkham Knight, play as Nightwing to stop the Penguin from breaking out of the Gotham City Police Department in this story pack.
2008 Tumbler Batmobile Pack (Later in Sept.): Inspired by the 2008 movie 'The Dark Knight', confront foes with the Tumbler Batmobile and race through two themed tracks.
Original Arkham Batman Skin (Later in Sept.): Fight the war against Gotham City with the original Arkham Asylum Batman costume.
"Batman: Arkham Knight" is availalbe now on the PS4 and Xbox One.
© 2023 Latin Times. All rights reserved. Do not reproduce without permission.