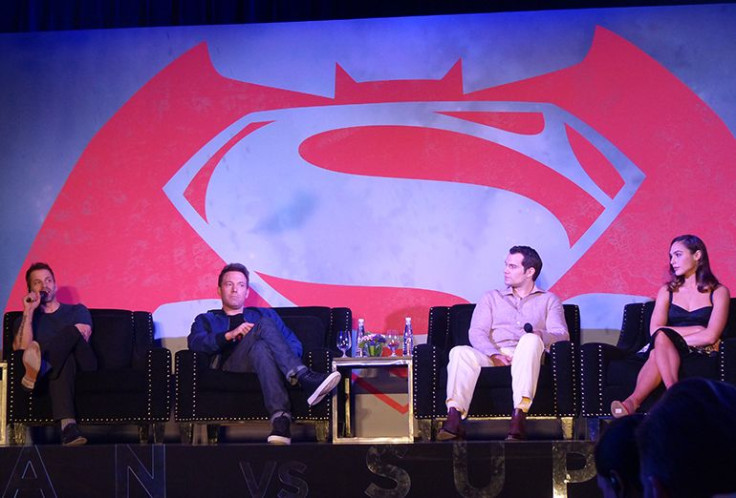 Mexico City hosted the world premiere of the highly anticipated "Batman v Superman: Dawn of Justice," for which director Zack Snyder and the Trinity itself: Ben Affleck, Henry Cavill and Gal Gadot, flew in. Prior to the film's debut, a press conference was held at the St. Regis Hotel downtown hosted by film critic Oscar Uriel, where the stars got to comment on their experiences making the movie, bringing the beloved characters to life and what real heroism is all about. "Making the Trinity come to life had always been a dream of mine, and I still can't believe it came true," said Snyder.
So much speculation has been buzzing about the film, that reporters brought up the most random rumors to confirm or squash them. One that stood out was that Ben Affleck had rewritten the script while wearing his Batsuit for inspiration. "That's the stupidest rumor I've ever heard," Affleck responded. "If I'd had to rewrite it, I would've worn the suit cause it's sooo comfortable... yeah, I can't even hold a pencil with it, let alone type," he continued. "Luckily, we had Chris Terrio (from "Argo") create something so cool with Zack, that I was relieved to only have to worry about doing a good job portraying Batman." Affleck also mentioned that he is more of a "one thing at a time" type of guy, so he is focusing on his upcoming film "Live by Night," instead of considering if he'd direct the next Batman movie.
Not long ago, Mexican director Alejandro González Iñárritu called superhero movies a "cultural genocide," to which Affleck said, "This genre is like any other, and it seems to be resonating right now, maybe because it's a particularly scary time… I know Alejandro, he's a great guy; Chivo [Lubezki] is a friend of mine, but Alejandro is given also to occasional overstatements, but he is brilliant, and his point is taken that we can't just swallow up cinema with one kind of movie."
When asked about landing the role of Super Woman, the gorgeous Gal Gadot said she feels like the luckiest girl alive to be playing her. "I have so much respect for her and everything she embodies: truth, justice, love and compassion," Gadot explained. "There are so many male superheroes that are strong and inspirational, but not enough female ones. My daughter is 4 years old, and even though she loves Disney princesses, she thinks they are weak, so I think it's incredibly important that boys and girls grow up with strong female characters."
Cavill also spoke about playing Superman, and said he is extremely "near and dear to his heart." "The thing that I enjoyed most about this is that we're seeing the evolution of Superman; we're not seeing the finished product; he's going through his growing pains, and not quite yet the guy we know and love from the comic books," he explained. "But, you can see the beginnings of it and playing with that was a lot of fun."
Latin Times asked all four of them what they thought makes a hero a real hero, and if they thought power always ends up corrupting us. Here's what they said:
Zack Snyder: "I don't know that power always has to corrupt us, but it's an extremely interesting topic to play with in a movie. I strongly believe there are extremely powerful civil servants and people who really do try to do their best to help humanity."
Ben Affleck: "There are heroes everywhere; nurses, firefighters, first responders, teachers, single parents… even some journalists [laughs]; people who devote their lives to others. My personal heroes are my mom, who raised my brother and I; my grandfather. I think what Jennifer [Garner] does with our children is beyond heroic; she's fabulous; she's an amazing mother."
Henry Cavill: "It's hard to pin down any one particular thing that makes a hero, so I'm going to speak for my personal heroes: my close friends, my family and my dog (Kal-El) are my real-life heroes. What makes them heroes, in my eyes, is that they're excellent people–except for my dog, who is an excellent dog– because they affect other people's lives by making them better, and that to me is heroic."
Gal Gadot: I agree. I don't think you need to have superpowers to be a hero. We don't need to do bigger-than-life things to be heroes, we all have our heroic moments when we do the right thing. Heroes are those who do these things without expecting anything in return.
© 2023 Latin Times. All rights reserved. Do not reproduce without permission.