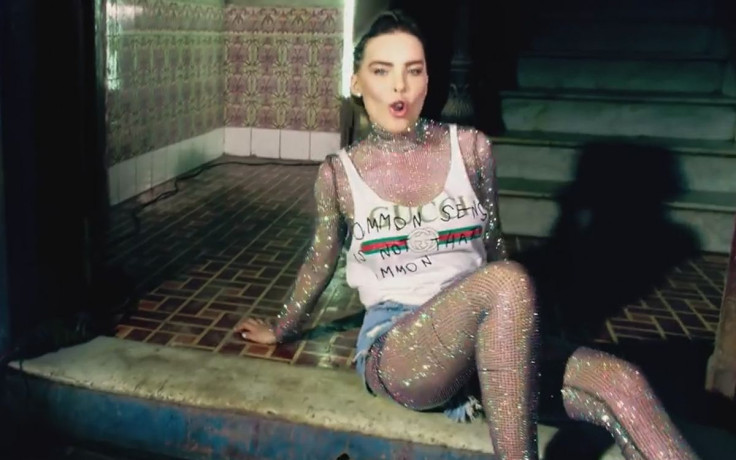 Belinda is surrounded by controversy once again after the video "Déjate Llevar" was released. The pop star is one of the featured artists in the music clip with Juan Magan, Manuel Turizo, Snova and B-Case and it has already gotten more than 4 million views. With so many people watching the clip, it was bound to happen that someone found something. One of the outfits that Belinda wears is the same outfit that Rihanna wore and shared on her Instagram account back in April.
As you can see, it's the same outfit and people have been bashing Belinda for stealing Riri's look. In an event, she told the "Hoy" cameras that the clothes are available to everyone. "To start things off, the clothes are from a renown label and it's international," she said. "It's a collection that all women should have." Watch her response below!
Rihanna is not Belinda's only inspiration in the music video, many have also noticed that her moves are similar to Shakira's. We all know that the Colombian superstar is known for her hip shaking and wall humping the wall. Guess what? Belinda does some similar moves in the "Dejate Llevar" clip that has drawn similarities. During the same event, "Ventaneando" got Belinda's response to the comparison. "She dances great, what a comparison, it's an honor because she's a beautiful woman and we're not competing," Belinda replied. "I admire all women, I am a fan of women and I will always support them." Watch that interview below and tell us what you think!
One of Belinda's more infamous scandals is when she was labeled as "Lady Sapito" for allegedly refusing to sing the song that she made famous when she was a child star. Belinda has a history with "El Sapito" after a clip went viral that showed the star acting annoyed for being asked by fans to perform that song during a concert. "It makes me laugh that you don't know how to differentiate and realize everything is part of the show," she said after she became a trending topic on Twitter. In the message she included a meme that read, "Keep calm and Sapito." Belinda later tweeted another message lashing out at the haters: "Continue making things up and criticizing, I will keep growing. Blessings to all."
The original video that was shared on social media showed Belinda annoyed at having to sing a song she used to perform as a child. "Is it serious," she asks to a cheering crowd. "Seriously, having so many songs, so many years in the business, you'll always ask for 'El Sapito?'" Belinda, seemingly bothered, crouches, puts her head down for a moment and stares out at the audience, before starting to perform it. It was revealed that it's all a bit she does during her concerts and she was not bothered by it.
"El Sapito" is a tune from the telenovela "Cómplices Al Rescate" where Belinda starred in when she was a kid where she played a young banda singer. "El Sapito" is one of the most remembered songs from the series and continues to play at birthday parties and at Belinda concerts as well.
© 2023 Latin Times. All rights reserved. Do not reproduce without permission.