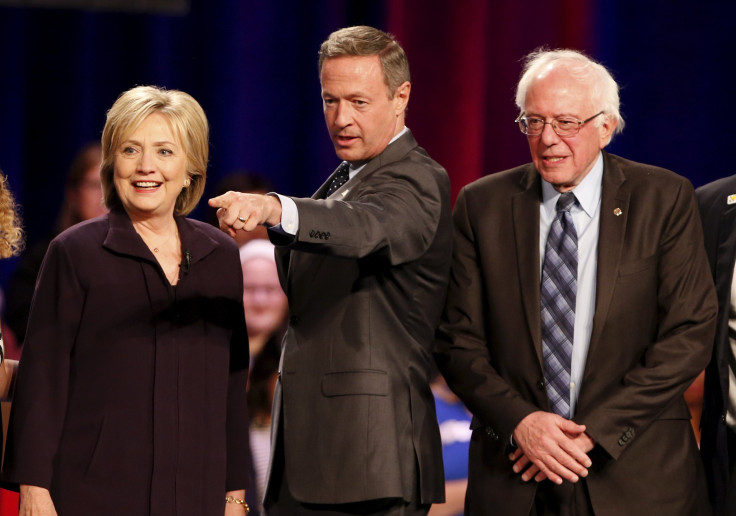 Los Angeles, Calif. — An immigration policy pissing match between two Democratic presidential candidates erupted this week, and that's great news for immigrant advocates looking for a voice in the 2016 election. Bernie Sanders released a sweeping ten-page policy proposal yesterday, a nearly complete wish list for pro-immigrant and human rights groups. The immigration plank comes five months after Martin O'Malley published a plan with many similarities, including an updated list of policy points earlier this month. O'Malley staffers reacted by slamming Sanders and Hillary Clinton for their records, arguing that they can copy the plan, but they can't copy the man.
"Governor O'Malley has led with principles, not polls on immigration-- he implemented the DREAM Act and drivers licenses for New Americans in Maryland and adopted countless measures to include New Americans into the full light of society," O'Malley for President Spokeswoman Gabriela Domenzain said in a statement. "If we want to move America forward and stay true to our values, we can't resort to the old, nativist, poll-tested politics of the past when it comes to immigration reform and restoring dignity to New Americans. Neither Senator Sanders nor Secretary Clinton has shown the backbone or foresight to do what's right on immigration."
Both the O'Malley and Sanders campaigns argue that their immigration plan is stronger. We encourage readers to read both the Sanders plan and the O'Malley plan. Held under the wonk's microscope, the plans differ in terms of rhetoric and goals.
Here in Los Angeles, immigration advocates are looking at the Democrat's plans with a wide-angle lens. Today L.A.-based immigrant rights group CHIRLA is holding a Thanksgiving rally that won't endorse either candidate. In a statement yesterday, the group acknowledged both Sanders and O'Malley's receptiveness to their priorities.
"On the Democratic side we now have seen strong, detailed proposals to fix our inhumane immigration laws from presidential candidates Bernie Sanders and Martin O'Malley," said Angelica Salas, Executive Director for CHIRLA. "This speaks to the respectful and interactive relationship each candidate would like to have with the Latino, Asian, and immigrant communities."
Hillary Clinton, meanwhile, has held back on the details of her immigration plan. On her website, the platform is limited to a few generalized bullet points. In public comments, they haven't given advocates anything close to what they're asking for. The Sanders plan also falls short.
"Sen. Sanders' plan meets nearly all of United We Dream's top five demands for Presidential action on immigration," advocacy coordinator Greisa Martinez of the D.C.-based United We Dream Action said in a statement on Tuesday. "It is a testament to the power of the immigrant movement that the Sanders campaign is delivering more than talking points and values statements on how they would work for the liberation of our community.
"We hope that in the coming weeks, the Sanders campaign will improve their plan by saying how they would hold ICE agents accountable, in addition to the Border Patrol accountability measures included in the plan now and tell us how he plans on making the plan real."
How do you make someone keep a promise in politics? There's a trick that political organizers use to increase a voter's likelihood to actually vote. When a voter promises to go the polls, organizers ask them for the details. What time of day will you go? Will you walk or drive?
Getting a voter to form a mental image of how they'll get to the polls doesn't guarantee they'll take the time or effort to vote over, for example, work, family life or Netflix. But it does increase the odds. Scaling up to presidential promises, immigration advocates are hoping detail might help in this election cycle.
"I cannot guarantee that it is going to be in the first 100 days," then-candidate Barack Obama told Jorge Ramos in May of 2008. "But what I can guarantee is that we will have in the first year an immigration bill that I strongly support and that I'm promoting. And I want to move that forward as quickly as possible."
That never support never came through. Worse yet for immigration groups, the belated bill he promoted four years later failed to pass a hostile Congress that was angry over how Obama did spend his political capital, such as the Affordable Care Act.
It's unclear how Bernie Sanders or Martin O'Malley can make even "the best laid plans" a reality.
Team O'Malley argues that the former governor's record in Maryland proves that he can get immigration legislation passed. But he passed those laws with a partisan majority in his state congress, a luxury that's unlikely in 2017.
Sanders, meanwhile, is out-promising then-candidate Barack Obama, pledging to put immigration in the agenda for his first hundred days. Immigration will likely fall lower on his list of priorities than campaign finance reform or an education bill.
Clinton's plan to pass comprehensive immigration reform, "elect more Democrats," is similarly rough.
On the executive action side, all that immigration advocates can really do is press for more and more details. In that sense, they are succeeding in getting the candidates to talk about immigration in a way that was unimaginable ten years ago.
How will you make this work? When will you sign the order? By drilling for depth, pro-immigrant groups might get candidates to form a mental image, a remember them if and when they make it to the White House.
© 2023 Latin Times. All rights reserved. Do not reproduce without permission.