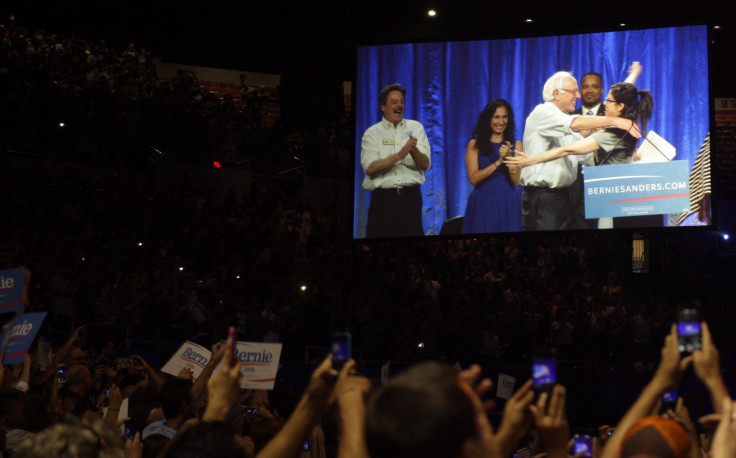 Los Angeles -- Vermont Senator Bernie Sanders (I-Vermont) attracted a crowd of over 27,000 people on Monday night at rally in Los Angeles. He addressed the Black Lives Matter movement and gave a blistering stump speech that took on corporate America and conservative social values. He was introduced by social activists as well as actress and comic Sarah Silverman, a fellow Vermonter who resides in Los Angeles. By the end of the night #BernieInLA was trending on Twitter nationally, a packed basketball stadium had delivered a dozen standing ovations, and an overflow crowd had cheered the presidential candidate on from the parking lot.
"Bernie in Los Angeles;" it felt like a show or a basketball game. Spectators did "the wave," rippling light blue Bernie-for-president signs in a small tsunami around the stadium. One supporter brought his dopey-eyed St. Bernard dog, which became a selfie magnet. Water was sold at $4 a bottle. Another man was dressed as a pirate. The mood was festive, like it could have been Comic-Con or Ciclovia. Then it got serious.
"One year ago, officer Darren White shot and killed Michael Brown," newly named press secretary Simone Sanders said after warming up the crowd, adding "enough is enough" and "Black. Lives. Matter."
"Black lives matter" was repeated thought the event. Sanders has campaigned for three months now, and his events have been halted by self-styled black lives matter protesters twice. No such action happened on Monday. The theme extended to a section of Sanders' stump on criminal justice and education, as well as introductory remarks by local climate activist Joe Galliani who blasted the Keystone XL pipeline, fracking and offshore drilling (all of which Sanders proposes to ban).
"Climate justice in the frontline communities of color," said Galliani, member of a local chapter of 350.org, the climate activism group started by Sanders' fellow Vermonter Bill McKibben.
Recently, Sanders won an endorsement from a nationally recognized environmental group, Friends of the Earth.
He also won his first major union endorsement on Monday, from the group National Nurses United . A local member of that union gave introductory remarks comparing Sanders to a nurse who is "caring" and "patient."
On Immigration
Speaking about Bernie Sanders and immigration, 31-year-old Dreamer Maria Barrera called for rights to an education and a pathway to citizenship, listing the ongoing threats to the undocumented population: family separations, fear, and mothers and children held in detention centers. She got choked up during her speech, fighting through tears to finish her endorsement on behalf of her organization, Coalition for Humane Immigrant Rights of Los Angeles.
"Bernie Sanders is speaking up and we say thank you, but remind him that as President he should also remember the people in the shadows," Barrera said.
In recent weeks, Sanders has taken flack from pro-immigrant groups and journalists for suggesting that increasing the number of immigrants could take away American jobs. He didn't mention those positions, which oppose increases in low-skilled labor and tech workers. He did reiterate support for undocumented immigrants that were already in the country.
"Bring the 11 million undocumented workers out of the shadows. They cannot continue to be exploited. They cannot continue [to be denied] legal rights," Sanders would later say in the event.
The L.A. Crowd
"The first time I heard of Bernie Sanders was on Jon Stewart" said Kalin Flier, who turns 18 this November, soon enough to vote for Sanders in the Democratic primary.
In the Stewart clip, Flier recounted how the host first thinks that Sanders is a crazy left-wing nut, but then plays a clip of him speaking and concludes that he's a normal guy, with just-left-of-center politics. Flier is particularly keen on Sanders' plan to make college debt-free. With rivals Hillary Clinton and Martin O'Malley, the issue is likely to be a mainstay in the fall Democratic debates.
Sarah Silverman introduced the Senator, playfully teasing the name of Sanders' corporate nemeses, the conservative, GOP-backing Koch brother heirs.
"The Cock brothers. Is it Cock or Koch? I think it's like Silverst(ein) or Silverst(ine)? Either one works [...] I give you, if we're all very smart and a little bit lucky, the next president of the United States," she said.
Sanders' 60-minute stump speech hit every major democratic theme from abortion rights to civil rights to increased funding for education. The largest applauses -- screaming standing ovations -- came for his major themes: college tuition, ending Citizen's United and a single-payer health care system.
"Let me congradulate Los Angeles for raising the minimum wage to $15 per hour [....]," Sanders said, proposing that the rest of the country should also raise wages to $15 per hour.
"Black lives matter," he said. "There is no president that will fight more that me to end institutional racism and [work towards] criminal justice reform]," Sanders said, adding later "I find it interesting that a kid smoking marijuana can get arrested but CEOs get away with [corporate crimes]."
Supporters welcomed what they say is Bernie straight talk and an ear for the problems of the working class.
"He speaks to what people are feeling, [like on the economy]. We're declining so much since the 80s" said Tony Zambrano, a union construction machine operator from the San Gabriel valley adding "make sure it says union operator, union ."
Zambrano brought his wife Maria, an immigrant from Mexico City, and their middle-school-aged daughter to the event.
​On Iran
Sanders Spoke briefly in support of the plan put forward by the Obama administration and encouraged his colleagues in the Senate to support it. We have to prevent Iran from getting a nuclear weapon, he said, but it was "equally important" to do that "without another war."
The crowd cheered.
The Senator's voice was hoarse throughout the event, a consequence, perhaps, of an aggressive schedule and numerous speaking engagements in the three months since he began his campaign. After finishing his speech to the packed stadium, Sanders went outside, where thousand of latecomers had watched his speech on projection screens.
"He came outside and thanked us for coming, and asked if we had been able to hear him alright," said Hal Cox, of Eugene Oregon, who was visiting Los Angeles with his daughter. "I think he clarified this black lives matter thing. It's so hard not to agree with everything he says."
© 2023 Latin Times. All rights reserved. Do not reproduce without permission.