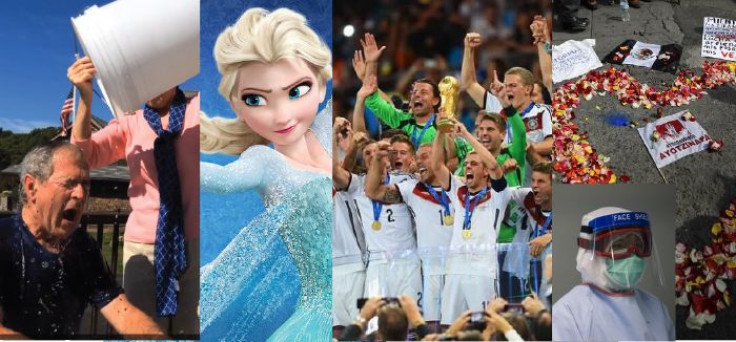 Every year has its highs and lows, especially when it comes to trending topics. We wish some could stay, just like we wish some had never happened; some even make us doubt our faith in humanity, but some restore it. Take Ebola for example, that's one we wish had never happened, but the Ebola fighters restore our faith in humanity (probably why Time named the Person of the Year.) Of course the most talked about topic of the entire year was the World Cup, which was certainly very exciting and made for a thrilling summer, can we agree?
In terms of the worst trending topics, 2014 did have its fair share, and although they sometimes bring humanity together, they remain under the saddest TT of the year; the ones we wish hadn't happened: the Malaysia Airplanes, the conflict in Gaza, the ISIS videos and threats, Mike Brown and Eric Garner's killings #Ferguson #BlackLivesMatter, Mexico's Ayotzinapa missing students #AyotzinapaSomosTodos, Robin Williams' death (he was also Google's top search term of 2014), the Nigeria kidnapping #BringBackOurGirls, and of course, the Ebola outbreak.
The best (or happier) trending topics included #MalalaYousafzai, who is the youngest Nobel Prize winner at 17; of course the #IceBucketChallenge for ALS and George W Bush's Ice Bucket challenge was the most viewed of all. Shakira's was the third most watched! The biggest TT movies were, of course #Frozen, and next came #GuardiansOfTheGalaxy. The World Cup was the biggest global trending topic of the year, except in the US where it occupied 6th place. The most searched for, and talked about players were Luis Suarez and Lionel Messi.
Facebook was the most used social media platform this year, where the most talked about shows were "Game Of Thrones" and "Orange is the New Black" and the most searched for celebrities were Beyoncé, Pharrell Williams and Nicki Minaj.
© 2023 Latin Times. All rights reserved. Do not reproduce without permission.