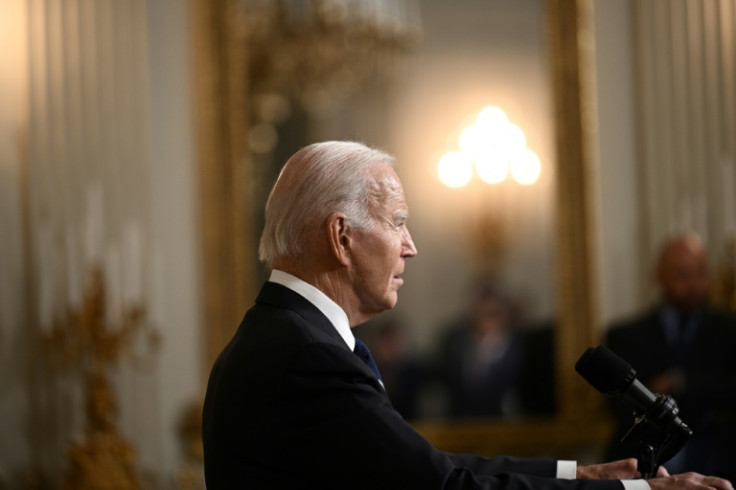 President Joe Biden called the attacks perpetrated Saturday (Oct. 8) an act of "pure unadulterated evil" as he confirmed 14 U.S. citizens are among the more than 1,000 people killed by Hamas militants.
Speaking from the White House, Biden said several American citizens were among the fatal victims of the attacks.
Standing next to Vice President Kamala Harris and Secretary of State Antony Blinken, Biden said the "bloody hands of the terrorist organization Hamas" is behind the attacks.
"Like every nation in the world, Israel has the right to respond," Biden said, adding "Let me make it crystal clear: We stand with Israel."
Biden said the U.S. will provide military equipment to its ally, including ammunition and interceptors.
"We're making sure Israel doesn't run out of these critical assets to defend its cities and its citizens."
The U.S. president also warned others who may interfere in the crisis.
"Let me say again to any country, any organization, anyone thinking of taking advantage of this situation, I have one word. Don't. Don't. Our hearts may be broken, but our resolve is clear."
No U.S. boots on the ground
In a separate press briefing, John Kirby, National Security Council Coordinator for Strategic Communications, said the U.S. has no intention to put U.S. troops on the ground in Israel.
Asked if there is an scenario of the U.S. joining the war if Hamas and Hezbollah open more fronts in Israel, Kirby said the administration will give assurances that U.S. interests are protected.
Kirby also denied previous reports in the media that Hamas are holding American citizens hostage.
"We have to accept the possibility and the likelihood that — that some may be — I mean, we're not — you know, we're not dismissing that, but we can't confirm that," Kirby said.
© 2023 Latin Times. All rights reserved. Do not reproduce without permission.