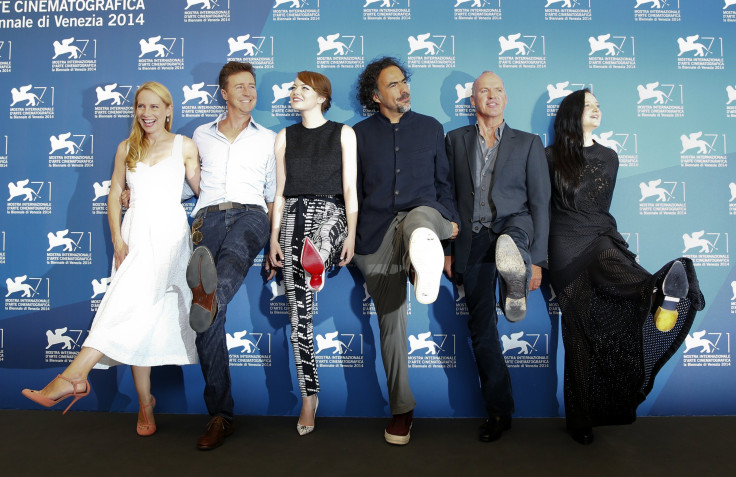 Alejandro González Iñárritu's latest film, "Birdman" or (The Unexpected Virtue of Ignorance)" debuted last night as the opener for the 71st edition of the Venice International Film Festival, and apparently, was very well received. Critics are already raving about the highly anticipated film, as we've been waiting for all summer thanks in part, to its exhilarating trailer and in part due to the change of pace for the Mexican director, since he is well known for his dramatic movies. It's now up to the reviews to tell if the movie is strong enough to receive the Golden Lion at Venice by the end of the Festival on September 6.
This film about an actor who once played a superhero, is brilliantly brought to life by a cast which includes big names like Michael Keaton, Edward Norton, Emma Stone, Zac Galifianakis, Naomi Watts, and many more. This, of course, only adds to the anticipation. In addition, González Iñárritu worked with his indispensable cinematographer, none other than Oscar winner and fellow Mexican, Emanuel Lubezki. It is said that along with their team, the pair achieved the illusion that the movie was shot in one continues take. An idea perhaps inspired by Alfred Hitchcock's "Rope" which they surely outdid with the help of technology.
Todd Macarthy from The Hollywood Reporter starts his critique with a very fitting phrase: ""Birdman" flies very, very high," and assigned, ""Birdman" lives," as his bottom line for the movie. Robbie Collin from the Telegraph UK said, "This is a phenomenal start to this year's Mostra: grand, spectacular, star-powered cinema that makes us ask anew what cinema is for. Call it a Dark Knight of the soul." Also comparing some aspects of the film to Iñárritu's "Biutiful" and some others to "Amores Perros." After all the raving reviews, it's no wonder the movie sits with a 100 percent rating on Rotten Tomatoes.
© 2023 Latin Times. All rights reserved. Do not reproduce without permission.