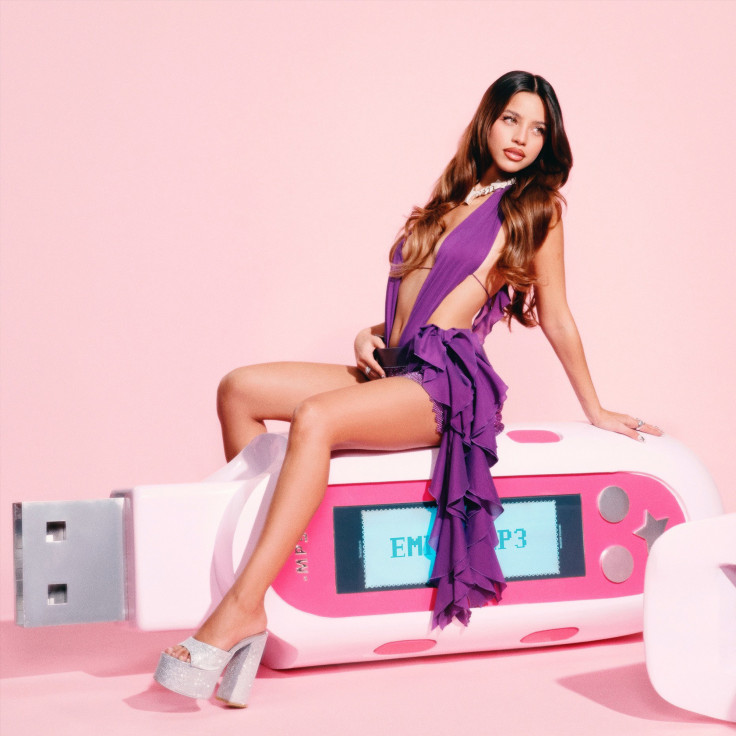 Argentine artist Emilia Mernes has released her second album ".mp3," taking her fans back in time to blast the tracks on the stereo.
The record, released this Friday, has 12 tracks and includes pre-released songs "Jagger.mp3", "GTA.mp3", "No_Se_Ve.mp3", and "Guerrero.mp3". The album evocates the essence of the year 2000, when new eras of hip pop and pop were taking over.
"I was inspired by the nostalgia of the early 2000s, a time when people could carry music with them on MP3 players. I always wonder what it would've been like for me to be a singer during that era, and that's where this album came from. It's a tribute to that era and a reflection of my musical growth," Mernes told The Latin Times.
She went on to say that "Beyoncé, Madonna, and Britney Spears were a significant influence on the album's sound and lyrics." "Their energy and aesthetic inspired my creativity a lot. I always reflect back on what I used to listen to growing up," said Mernes.
The 27-year-old said she also wanted to focus on female empowerment. That's why she brought in compatriots Tini and Nathy Peluso to the mix. " With some of the collaborations on the album I want to bring the message of empowerment, authenticity, and sisterhood, encouraging women to be themselves. In Argentina we've created a beautiful movement of supporting one another. And I wanted to bring attention to that. Also, it's my journey and I've been able to portray that in my songs, a lot of moments in my life, sad moments, happy moments, weird moments, it's all there," Mernes said.
With 17.3 million listeners on Spotify, Mernes continues to look for different sources of inspiration when it comes to her process of making music. "The album is a reflection of my personal journey and my willingness to take artistic risks. Fans can expect to see me exploring different sounds and listen to me in a way they have never done before. I've been so true to myself, and my fans are seeing that. I feel so empowered by my fans and I think that's where this is coming from, I feel more open to explore, and be real and raw," she said.
When talking about the challenges she faced while creating ".mp3", she instead focused on calling them "memorable" moments. "I wouldn't be here if it wasn't for all those experiences, every setback has been a step up. I am very fortunate to have such loyal fans that have supported me from day one, and even when times have gotten hard, I've been able to overcome them and learned so much from them."
© 2023 Latin Times. All rights reserved. Do not reproduce without permission.