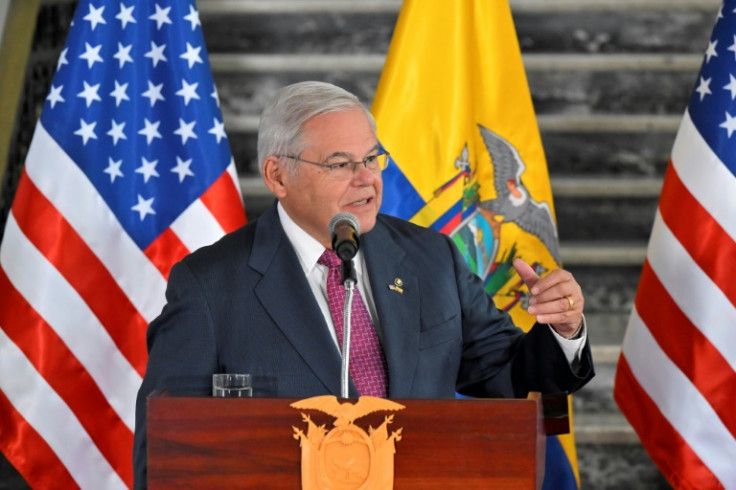 US Senator Robert Menendez, a Democrat of New Jersey, vowed to fight corruption allegations corruption against him and to continue serving in Congress.
"I recognize this will be the biggest fight yet," Menendez said in a statement to reporters in Union City. N.J. "I firmly believe, that when all facts are presented, not only will I be exonerated, but I will still be the New Jersey's senior senator."
Menendez and his wife Nadine were indicted on bribery charges, according to documents filled Friday in Manhattan federal court. The indictment says Melendez used his position from at least 2018 to 2022 to benefit three N.J. businessmen and the government of Egypt in exchange for hundreds of thousands of dollars.
"The allegations leveled against me are just that, allegations," Menendez said. He was surrounded by some of his constituents. His wife didn't attend the press conference.
It was the first time Menendez appeared publicly after the charges were filed. He urged patience from colleagues in Congress, elected leaders and the people from N.J.
"Pause and allow all the facts to be presented," he said.
Federal prosecutors said the bribes received by Menendez and his wife "included cash, gold, payments toward a home mortgage, compensation for a low-or-no-show job, a luxury vehicle and other things of value," according to the indictment.
N.J. Governor Phil Murphy, also a democrat, has called for Menendez to resign.
"Under our legal system, Senator Menendez and the other defendants have not been found guilty and will have the ability to present evidence disputing these charges, and we must respect the process," Murphy said in a statement Friday. "However, the alleged facts are so serious that they compromise the ability of Senator Menendez to effectively represent the people of our state. Therefore, I am calling for his immediate resignation."