The bodies of at least 215 children, including some as young as 3 years old, have been unearthed at the site of Canada's largest Indigenous residential school in the western province of British Columbia this week.
In a statement published on Friday, Chief Rosanne Casimir of the Tk'emlups te Secwépemc First Nation noted that the remains were uncovered last weekend at the Kamloops Indian Residential School through the help of ground-penetrating radar technology.
Casimir noted that more bodies may be discovered because a vast area of the school grounds remains unexamined. She has since extended the organization's deepest condolences to the devastated families following last week's "unthinkable loss" that rocked the First Nations community.
"We had knowledge in our community that we were able to verify. To our knowledge, these missing children are undocumented deaths," she continued. "Some were as young as three years old. We sought out a way to confirm that knowing out of deepest respect and love for those lost children and their families, understanding that Tk'emlúps te Secwépemc is the final resting place of these children."
Chief of British Columbia's Upper Nicola Band Harvey McLeod, who attended the school in the late 1960s, said that he and former students for decades would wonder what had happened to beloved friends who suddenly stopped attending classes and disappeared.
"Sometimes people didn't come back, we were happy for them, we thought they ran away, not knowing if they did or whatever happened to them," he told CNN in a telephone interview.
Following the dreadful news, Canadian Prime Minister Justin Trudeau called on flags at all federal buildings to be flown at half-staff, including the Peace Tower flag on Parliament Hill in the nation's capital of Ottawa.
"To honor the 215 children whose lives were taken at the former Kamloops residential school and all Indigenous children who never made it home, the survivors, and their families, I have asked that the Peace Tower and all federal buildings be flown at half-mast," Trudeau said in a tweet.
Mayors of communities across Ontario, including Toronto, Ottawa, Mississauga, and Brampton have followed suit to pay their respects, the Associated Press noted.
The recovery of the remains was carried out by the Tk'emlúps te Secwépemc Language and Culture Department together with ceremonial Knowledge Keepers to guarantee that the work was carried out respectfully and that cultural protocols were upheld for the Indigenous deaths.
The Kamloops discovery has reignited long-standing questions about the ongoing legacy of colonialism in Canada. It accentuates the intergenerational trauma associated with residential schools that still choke Indigenous communities across Canada.
Indigenous leaders have indicated that the legacy of abuse and isolation was the heart of swelling rates of alcoholism as well as drug addiction on reservations.
The Canadian government apologized to Parliament in 2008 and acknowledged the widespread physical and sexual abuse incidents in the schools, which ultimately produced a cycle of intergenerational trauma for Canadian Indigenous people.
For more than 100 years from the 1870s until 1996, Canadian authorities coercively separated more than 150,000 First Nations children from their families and made them attend state-funded Christian schools. According to Al Jazeera, the move aimed to cut Indigenous family and cultural ties, acclimatizing the children into Canadian society.
Students were reportedly obliged to convert to Christianity, barred to speak their native languages, and utter about their culture. Many defenseless students were repeatedly battered as punishments, with up to 6,000 said to have died from physical, mental, and sexual abuse, neglect, as well as other forms of violence.
Founded in 1890, the Kamloops Indian Residential School became the largest school in Canada's residential school system, logging at least 500 children at its enrollment peak in the early 1950s.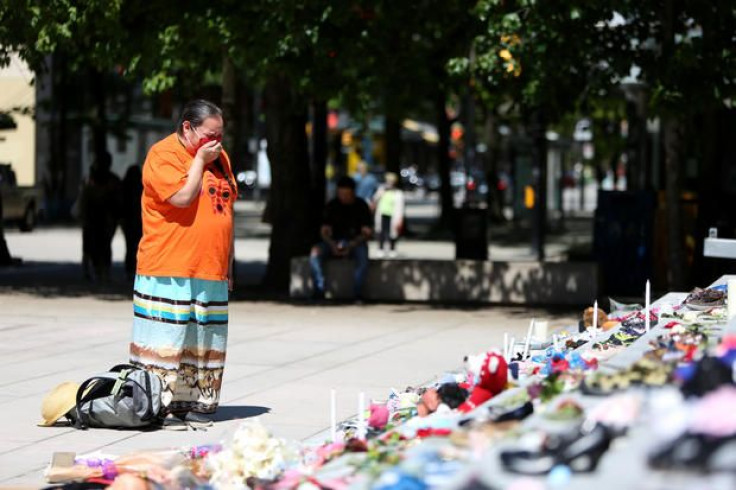 © 2023 Latin Times. All rights reserved. Do not reproduce without permission.