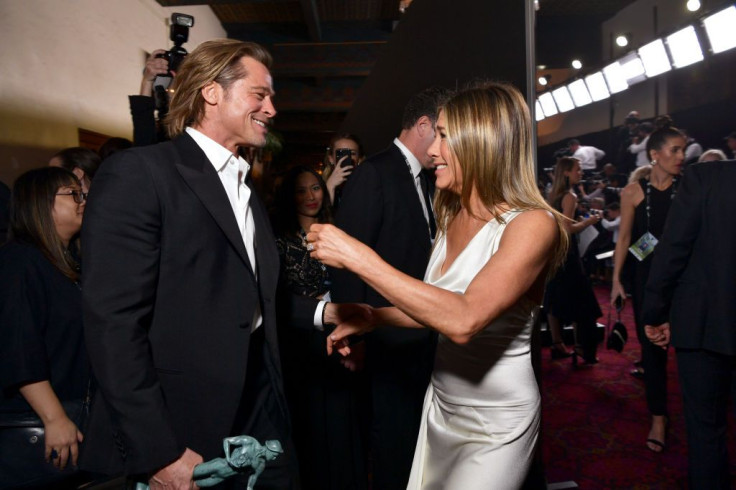 Brad Pitt took a droll dig at Angelina Jolie at the Screen Actors Guild (SAG) awards, drawing chuckles from the crowd. The actor made the unprecedented jabs at his former wife when he delivered his acceptance speech on Sunday night at the Los Angeles Shrine Auditorium after scooping the Best Supporting Actor award for his role in "Once Upon A Time In Hollywood."
In his acceptance speech, Brad Pitt joked about "not getting on" with his wife and jokingly said he hoped his win could improve his dating life. That was the most candid comment he had made so far about his doomed marriage and new bachelor life since he and Jolie announced their split in 2016.
"I got to add this to my Tinder profile," he quipped. "Let's be honest, it was a difficult part—a guy who gets high, takes his shirt off and doesn't get on with his wife. It was a big stretch. It's big," he added. The cameras then panned to his other ex-wife, Jennifer Aniston, who was apparently amused by her ex-husband's remarks.
That same night, Pitt was caught flirting with Aniston backstage, fueling speculations that the prospect of them getting back together remains highly possible. At one instance, Pitt was caught on video glued to a screen backstage as Aniston received a prize for her role in "The Morning Show." "Oh, wow," Pitt uttered as he watched Aniston sashaying up to the stage. Later in the evening, the pair was also spotted dancing on the dance floor, briefly holding each other's hands while chatting.
It's no secret that Pitt and Aniston were once America's sweethearts. They had been married for five years before Pitt had an affair with Jolie on the set of "Mr. and Mrs. Smith" and left Aniston for his co-star. Despite their bitter breakup, Pitt and Aniston managed to grow close again.
In 2019, the ex-couple broke the internet when Jennifer Aniston invited Pitt to her lavish 50th birthday party. When asked to confirm if they had rekindled their romance, however, both Pitt and Aniston denied.
© 2023 Latin Times. All rights reserved. Do not reproduce without permission.