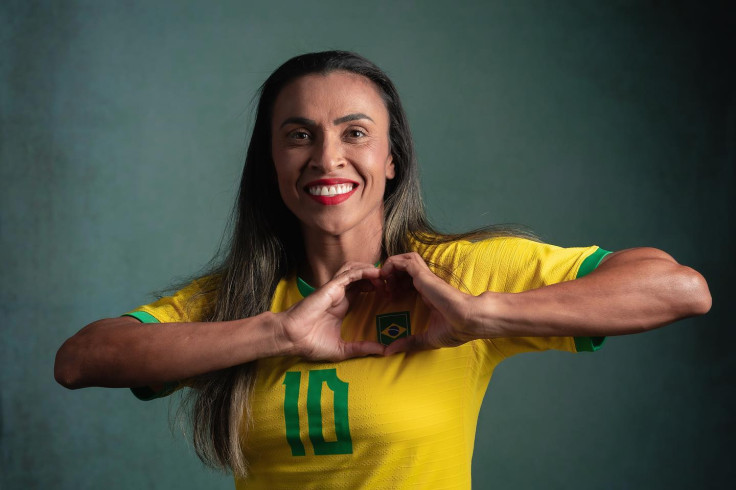 Brazil football star Marta, 37, said that it feels "surreal" to be preparing for the sixth edition of the FIFA Women's World Cup, which she shared will be her last.
It was in 2003 that she made her World Cup debut. She is her country's women's national team's all-time leading scorer with 117 goals. Even though the star has won the Copa America three times, she is yet to lift the World Cup, reported ESPN.
Brazil's best result at the World Cup, which will be held in Australia and New Zealand this year, was a runner-up spot after Germany in 2007.
Marta said in Brasilia on Monday that yes, it will be "my last World Cup," and added that people have to understand that a time "comes for us to prioritize other things."
She shared that she has to be thankful to have lived all those years in the national team, and to have the opportunity to go to "another World Cup, a sixth one, for me is something surreal."
Brazil head coach Pia Sundhage had said that Marta, who plays for the Orlando Pride, could start the World Cup on the bench as she continues to recover from a knee injury.
Last month when Sundhage announced her picks for the tournament, which kicks off on July 20, she said that "Marta is the queen, the icon, and just to be around her is contagious."
She praised the footballer saying that in the final pass, "she is one of the best." But when asked if would she start in the line-up, Sundhage said that she "didn't know yet," as per Al Jazeera.
The athlete, who has won the FIFA World Player of the Year award six times, had surgery to repair a torn anterior cruciate ligament last year. She got back to the national team in February after remaining absent for 11 months.
In April, Marta did not play in friendlies against Germany and England. But joined as a 74th-minute substitute in last weekend's victory over Chile.
According to 7news.com.au, in an echo of Argentina's Lionel Messi in the men's competition, Marta is widely considered one of the best players when it comes to women's football.
Brazil is one of three South American teams in the World Cup this year. It is in Group F along with France, which had eliminated the Brazilians in the round of 16 four years ago.
Brazil's first game at the tournament is against Panama on July 24 in Adelaide and then will take on France and Jamaica.
© 2023 Latin Times. All rights reserved. Do not reproduce without permission.