Jeff Beck, one of the most influential rock guitarists of all time, died aged 78. Before joining the Jeff Beck group with Rod Stewart, the British musician gained fame as a member of the Yardbirds, where he took Eric Clapton's place.
The representative stated that Beck passed away on Tuesday after "suddenly contracting bacterial meningitis." They said, "His family asks for privacy as they absorb this enormous loss."
Beck, who was hailed as one of history's finest guitarists and whose fingers and thumbs were infamously insured for £7 million, was also regarded as a keen innovator.
In the 1960s, his tone, presence, and, most importantly, volume transformed guitar music and had an impact on genres like heavy metal, jazz-rock, and even punk.
"I play the way I do because it allows me to come up with the sickest sounds possible," Beck remarked in 2009, speaking at his second induction into the Rock and Roll Hall of Fame.
"That's the point now, isn't it? I don't care about the rules.
"In fact, if I don't break the rules at least 10 times in every song, then I'm not doing my job properly."
Truth, Beck's debut solo album from 1968, combined elements of hard rock and blues to create a prototypical of heavy metal. The Jeff Beck Group issued an album with him the next year called Beck-Ola, but his solo career was halted by a head injury sustained in a car accident.
Following his recovery from his skull injury in 1970, Jeff Beck reorganized his band and issued two records, 1971's Rough and Ready and 1972's Jeff Beck Group, that showed his early attempts into the jazz fusion sound that would later make him famous.
Beck was inspired to completely embrace jazz fusion on the George Martin-produced song Blow By Blow. It was Beck's most commercially successful album to date, but he later expressed regret about the platinum-selling song that peaked at No. 4 in the US. "I shouldn't have done Blow By Blow," he told Guitar Player in 1990. "I wish I had stayed with earthy rock'n'roll. When you're surrounded with very musical people like Max Middleton and Clive Chaman, you're in a prison, and you have to play along with that."
He then released another platinum-selling jazz fusion album, Wired, in 1976, and There and Back, in 1980.
Due to his suffering from tinnitus, Beck's production drastically decreased in the 1980s. He worked on sporadic but noteworthy projects throughout the decade. In 1981, he appeared with Clapton, Sting, and Phil Collins at Amnesty International's Secret Policeman's Other Ball benefit concerts. In 1985, he released Flash, his first solo album in five years.
The 1989 album Jeff Beck's Guitar Shop was his final album as a solo artist for ten years, but he continued to perform and record throughout the 1990s, working with artists like Jon Bon Jovi, Kate Bush, and Roger Waters. In 1999, he released Who Else, a techno and electronic album.
Beck only put out a few albums in the 2000s and 2010s, but he started to establish himself as a respected authority and collaborator, performing with musicians like Kelly Clarkson and Joss Stone. Since 1976, he has resided on an estate in East Sussex. In 2005, he wed Sandra Cash, his second wife.
The album 18, which Beck and Johnny Depp co-wrote last year, featured Depp's original songs as well as covers of classic artists like Marvin Gaye, the Velvet Underground, and others. It was Beck's most recent endeavor. A lot of people disliked the album.
Responding to news of his death, singer Sir Rod Stewart referred to Beck as "the greatest."
"Jeff Beck was on another planet," he wrote beside a photo of the two on Instagram. "He took me and Ronnie Wood to the USA in the late 60s in his band the Jeff Beck Group and we haven't looked back since."
" He was one of the few guitarists that when playing live would actually listen to me sing and respond. Jeff, you were the greatest, my man. Thank you for everything. RIP."
Moments after the news broke, musicians and lifelong friends started paying their respects. On Twitter, Jimmy Page wrote, "The six stringed Warrior is no longer here for us to admire the spell he could weave around our mortal emotions. Jeff could channel music from the ethereal. His technique unique. His imaginations apparently limitless. Jeff I will miss you along with your millions of fans."
"With the death of Jeff Beck we have lost a wonderful man and one of the greatest guitar players in the world," Mick Jagger wrote. "We will all miss him so much."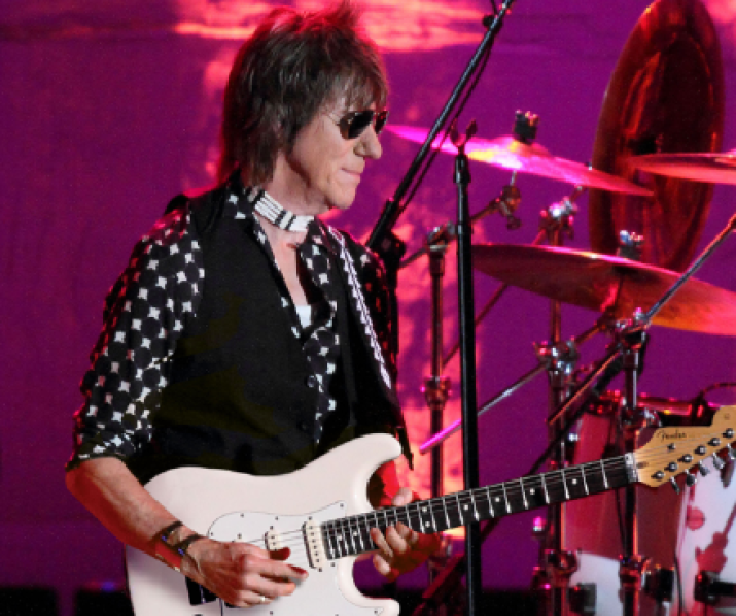 © 2023 Latin Times. All rights reserved. Do not reproduce without permission.