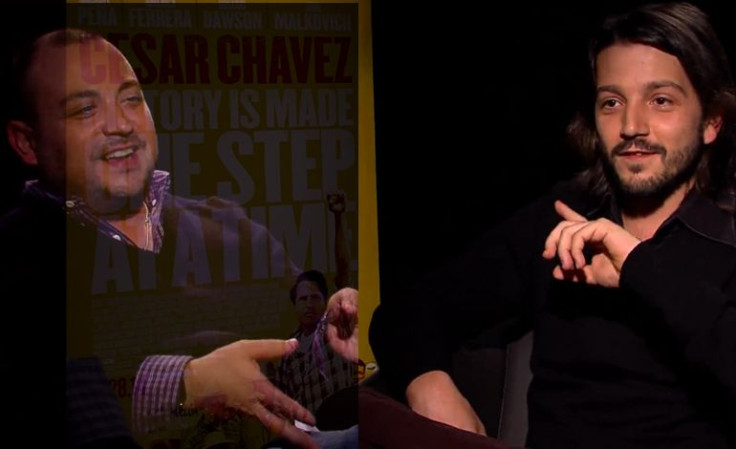 This Friday, 'Cesar Chavez' opens in movie theaters across the nation. The questions are many: Why make a film about the Latino activist that organized immigrant workers into unions now? And how can this movie change the face of Hispanics in Hollywood and in the political sphere? Latin Times sat down with actor and director Diego Luna, who candidly talked about his enthusiasm for the subject matter.
Above all, Luna, who is better known for his role in the Alfonso Cuarón's road indie hit 'Y Tu Mamá También,' saw an opportunity to tell a story about a true hero: someone who fought for the rights of immigrants and organized them into unions so they could get paid at least a decent wage. For Luna, Chavez represents a movement that is current and that could be applied to Latinos now more than ever.
With the Immigration Reform halted, there is a chance audiences can get riled up and reignite the movement to demand the passing of the neglected bill. Does art have that power? For Diego Luna, it does. What Cesar Chavez did was create a movement where workers would stand outside of supermarkets and say to shoppers: "if you buy grapes from 'x' brand you're supporting inhuman conditions for workers," and people stopped buying those grapes 'til the verge of driving the company to bankruptcy.
Regarding casting, Michael Peña embodies the soul of the bilingual, bicultural yet not well defined Cesar Chavez. First generation born Latinos are treated as this strange breed that is not American, but not Mexican, they are Chicanos and are seen as outcasts. And Peña, with perfect Spanish and perfect English -- and that unique root connection to Chavez -- was the only choice to play the coveted role.
Diego Luna's friendhip with John Malkovich -- the Academy Award nominee who directed him in the Mexican stage play 'El Buen Canario' -- came on board accepting a substantial role in the movie as a rich man who couldn't care less about Latinos as long as his grapes company made a profit. The rest of the cast is formed by America Ferrera and Rosario Dawson in minor roles, but the stars of the movie are clear: Peña in the lead role and Luna behind the camera, who makes everything in his power to help 'Cesar Chavez' transcend the big screen.
© 2023 Latin Times. All rights reserved. Do not reproduce without permission.