Canelo Alvarez's next fight may be against Billy Joe Saunders. While nothing has been officially announced yet, there have been reports of talks to arrange this fight.
Saunders is riding on the momentum after his victory against Marcelo Esteban Coceres in Las Vegas. This is a victory that many thought that he would not be able to pull off. Right after winning the fight he called out Alvarez. It now appears that the WBO super-middleweight world champion will get his wish.
According to sports writer Chris Mannix, "very preliminary" talks have been held between the teams of Saunders and Alvarez. It remains to be seen if the two sides are able to finalize the terms of the next match quickly.
Meanwhile, Mannix confirmed that the US broadcaster DANZ is keen on a match between Alvarez and Gennady Golovkin. This is supposed to be a trilogy match that can happen in May if it is finalized.
Alvarez, however, has made it clear that he is not interested in a match against Golovkin right now. The match may still happen because DANZ is pushing for it, but it may not happen this May.
It will depend on Alvarez while deciding about his next opponent. The Mexican boxer is at the peak of his career, and he was able to beat Sergey Kovalev earlier this month in Las Vegas to take the WBO 175-lb title from him in the 11th round.
The match against Kovalev felt so one-sided that some fans wondered if it was fixed. Kovalev's punches and jabs looked weak, even though he is known to have one of the best jabs in the light heavyweight category.
However, the truth is that Kovalev didn't have time to recover by the time of the match against Alvarez. The Russian boxer has also admitted that it was "impossible" to win under the circumstances, but he agreed to the fight for financial reasons, Boxing News 24 reported.
As far as the match between Alvarez and Saunders is concerned, it is expected to be held next year.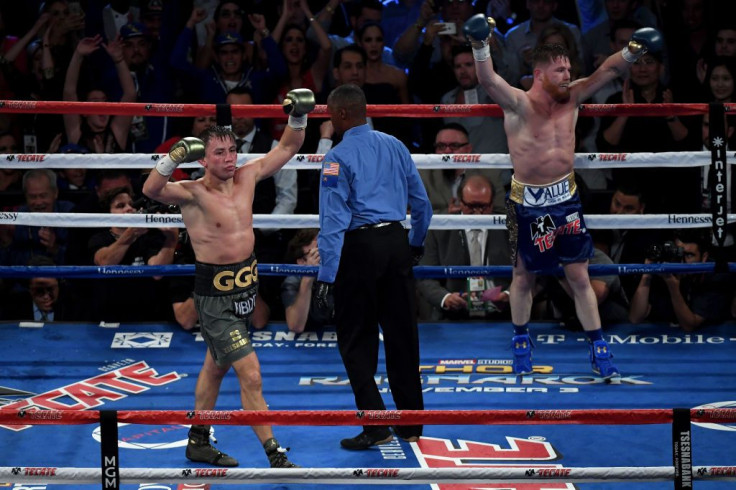 © 2023 Latin Times. All rights reserved. Do not reproduce without permission.