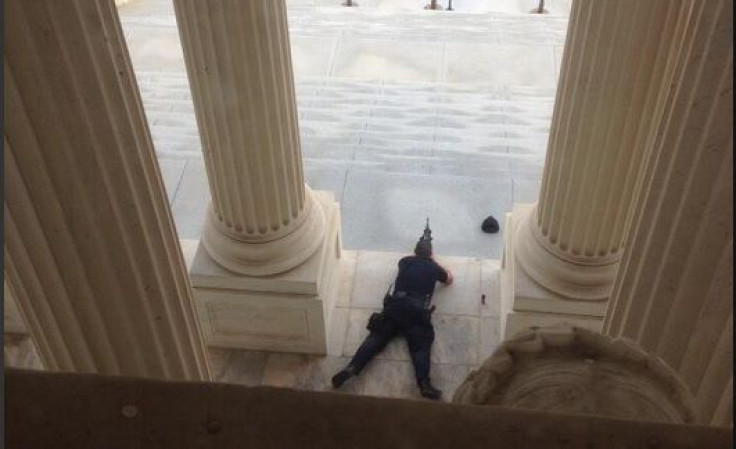 Police in Washington D.C have shot and killed a female suspect involved with a car chase outside the Capitol building Thursday afternoon. The shooting sparked a lock down of Congress after it was believed the U.S. was about to witness yet another mass shooting or terrorist act. The incident began when the now deceased suspect tried to drive her car through security barricades outside of the White House. One officer was injured by the woman driving the vehicle when it crashed outside the Capitol building.
The Senate and the House of Representatives were in session when shots were heard outside of the building. The woman driving the car crashed it into a gate on 15th and Pennsylvania Avenue. She then led the police on a one and a half mile chase to 2nd Street and Constitution Avenue where police fired four to five gunshots killing the suspect. A 13-year-old witness to the incident told the Chicago Tribune "I was just eating a hotdog...and I heard about four or five gun shots, and then a swarm of police cars came in wailing their sirens."
After the situation was under control Congress called off the lockdown. When police investigated the dead suspect's car they found a child, unharmed hiding in the vehicle. The suspect was not carrying identification and her name remains undetermined. ABC News spoke with Senate Sargent at Arms Terry Gainer who said the suspect "circled monuments in front of Capital Hill twice while being pursued. Then she headed toward the Capitol where Capitol Hill police and Secret Service opened fire and shot her."
Police Chief Kim Dine told reporters that the incident was not terror related saying, "This appears to be an isolated incident. Both scenes are under control." President Obama was not in D.C when the shooting took place. He has reportedly been briefed on the situation. Americans are on alert and hypersensitive to gun activity since the December shooting of an elementary school in Connecticut and the Navy Yard shooting from two weeks ago.
More From Latin Times
Boston Bombing Suspect Update: Dzhokhar Tsarnaev Lawyers Want 'Harsh' Prison Restrictions Lifted
Bolivia Drug Traffickers Throw $1M From Plane In Santa Cruz [VIDEO]
© 2023 Latin Times. All rights reserved. Do not reproduce without permission.