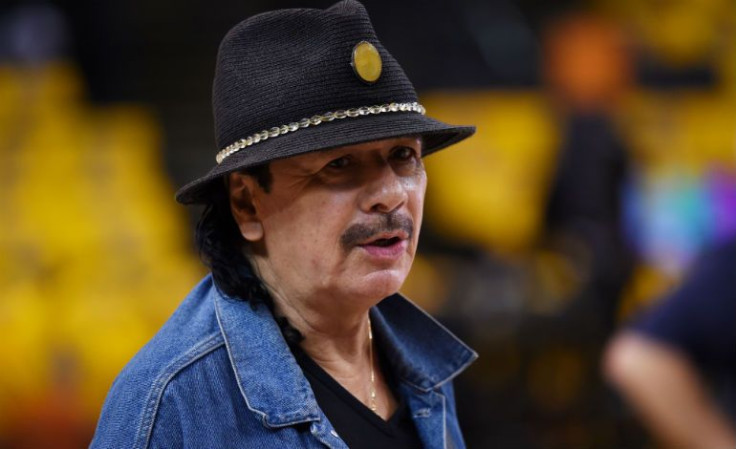 Carlos Santana wants to continue where he left off with his classic rock band "Santana" and has embarked a new project called "Santana IV." It's an initiative to reunite original members of the 1971-72 lineup of the band. According to Billboard, Greg Rolie, Marcus Malone and Michael Carabello, as well as drummer Michael Shrieve, who joined in 1969, and Neal Schon, who was Santana's second guitarist during 1971-72, have recorded a new album, which is expected to be mixed in the fall.
The "Santana IV" project will also hit the road next year. "It sounds great. There's so much energy. The songs are so vibrant and I'm really, really grateful," Santana told Billboard of the set.
But reuniting his main gang is not the only thing the Mexican-American guitarist has up his sleeves. Billboard also notes that Santana and his wife Cindy Blackman Santana are forming a jazz fusion group called Supernova. The group will include Wayne Shorter (saxophone), Herbie Hancock (keyboard) and John McLaughlin (guitar).
"Can you hear it? It's kind of like playing with, sharing music with Albert Einstein and Stephen Hawking, 'cause Wayne and Herbie, they're at that level of genius, genius, genius, genius," the 68-year-old artist told the publication. "I'm just grateful that they accept it and want to do it. And every time I play with Cindy, it goes viral. People go crazy. The energy between Cindy and I is very, very supernova."
Santana, who won the Spirit Of Hope Award at the 2015 Billboard Latin Music Awards, says Supernova will start recording in the spring of 2016 and hopefully start touring in Europe and America in the summer.
© 2023 Latin Times. All rights reserved. Do not reproduce without permission.