It was a winsome weekend for UK Prime Minister Boris Johnson and Carrie Symonds, who tied the knot in a low-key ultra-private garden soiree in Westminster Cathedral on Saturday. The high-profile event adhered to the pandemic's guidelines—and only hosted 30 guests—and saw some of Johnson and Symonds' closest pals and family members usher in the celebrations with a folky singalong at the Downing Street garden, followed by revelry by a fire pit until the wee hours of Sunday morning.
Johnson, 56, and Symonds, 33, were dressed to the nines for the big day, but are prepping for a real big bash in July 2022 when the pandemic hopefully plateaus. The honeymoon has been pushed to a later date, as well. Father Daniel Humphreys, who also baptized their baby son Wilfred in a private service last year, solemnized the event.
The newlyweds reportedly took off to a secret getaway on Sunday in what appears to be a two-day "mini-moon" by the seaside, as reported by The Sun. In an interesting reveal of sorts, as cited on Daily Mail, it is believed that the British PM's wife rented out her wedding outfit for three days—a flowing floor-length, long-sleeved white gown that she bought for just 45 pounds (around $64)) from MyWardrobeHQ, kickstarting a thoughtful trend in itself!
Symonds' hairdo was on point— her blonde tresses were curled to perfection, and an ornate flower crown made from yellow roses and white daisies completed the look. Johnson opted for a suave number—a dark navy suit and blue tie. The bride took to Instagram to share a few special snaps from the wedding, which were taken by photographer Rebecca Fulton. Symonds took to the social media platform to express her gratitude to well-wishers and fans who wished for this to happen.
The wedding ceremony, albeit decided well in advance, was carried out in utmost secrecy, with guests given firm orders about being tight-lipped about the couple's hippie-style celebration. The wedding lent a very offbeat vibe, replete with festival-style decorations including multi-colored bunting hung from trees, with several hay bales, flowers, and a range of cocktails on offer.
Symonds' father Matthew Symonds, however remained absent all through the occasion, and the couple's reps have declined to comment on the same. None of Johnson's adult kids were around as well. Tory MPs and cabinet ministers were excluded from the guest list, too.
On the upside, the power couple's adorable pooch Jack-Russell (which is a cross dog) reportedly made an enthusiastic appearance at the afterparty. The bride was even pictured barefoot at one point, complimenting the chic-breezy vibe. But guests were strictly advised against clicking photographs to maintain the privacy of the event.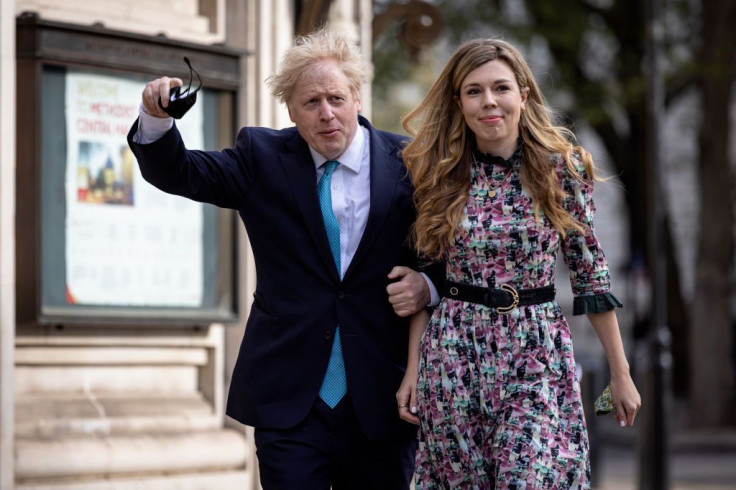 © 2023 Latin Times. All rights reserved. Do not reproduce without permission.