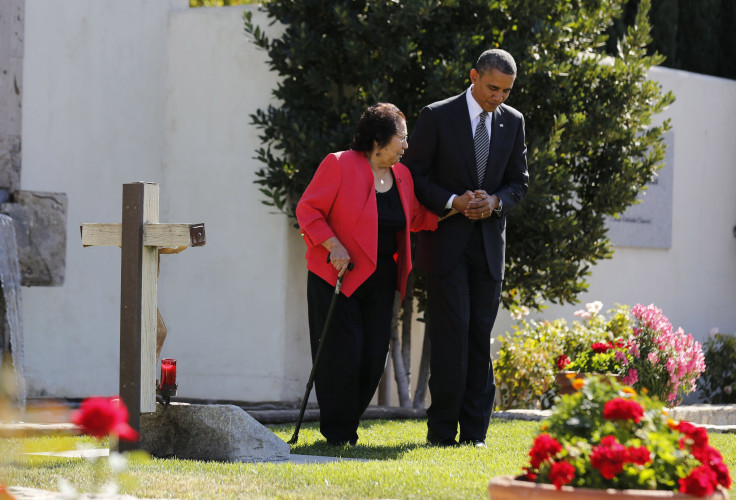 Latino activist and organizer César Chávez was a Navy veteran, but he did not receive Navy funeral rites after his death in 1993. The Navy corrected that on Thursday, April 23rd, the 12th anniversary of Chávez' death, conducting a memorial service for the late leader. The memorial displayed full military honors, including rituals such as a flag-folding, a rifle salute, and a live rendition of "Taps" played on a bugle. The belated memorial was held in Keene, California at the Memorial Garden of the Cesar E. Chavez National Monument, months after Navy Petty Officer 2nd Class Marco Valdovinos contacted Chávez' family proposing the idea.
Valdovinos reportedly searched for César Chávez naval records after watching "Cesar Chavez," the 2014 biopic directed by Diego Luna. He then discovered that Chávez hadn't received a proper naval burial despite serving as a volunteer in the Navy from 1946 to 1948, though he was honored by the Navy in 2012 with an eponymous ship, the USNS Cesar Chavez. Chávez, who suffered discrimination as a Latino in the service, called his time in the navy the two worst years of his life.
"I went out [to César's brother Librado] in uniform and knocked on the door and introduced myself, and I said, 'Sir, I understand that your brother served in the Navy,'" Valdovinos said. That gesture led to the service, welcomed by Chávez' family members, as well as the César Chávez Foundation.
"César endured discrimination in the Navy and at home during the '40s," the foundation said in a statement. "Cesar belonged to a generation of Latinos and other people of color who returned home from the service after World War II determined to see that the country for which they sacrificed fulfilled its promise of equality and freedom. That motivated him to work for civil and labor rights starting in the early '50s."
Chávez is best known for his civil rights and unionizing work that combated discrimination and led to better working conditions for farm workers. He founded the National Farm Workers Association, now the United Farm Workers, which continues to advocate for workers rights, especially those of undocumented laborers. At the ceremony, speakers tauted him as an inspiration to future generations. Mirtha Villarreal-Younger, deputy secretary for the California Department of Veterans Affairs and an Army veteran, told mourners that his name is a "beacon of hope."
"Each of us has power within us to accomplish seemingly impossible tasks regardless of our humble beginnings," Villarreal-Younger said. "Cesar led the way. He showed us how."
© 2023 Latin Times. All rights reserved. Do not reproduce without permission.