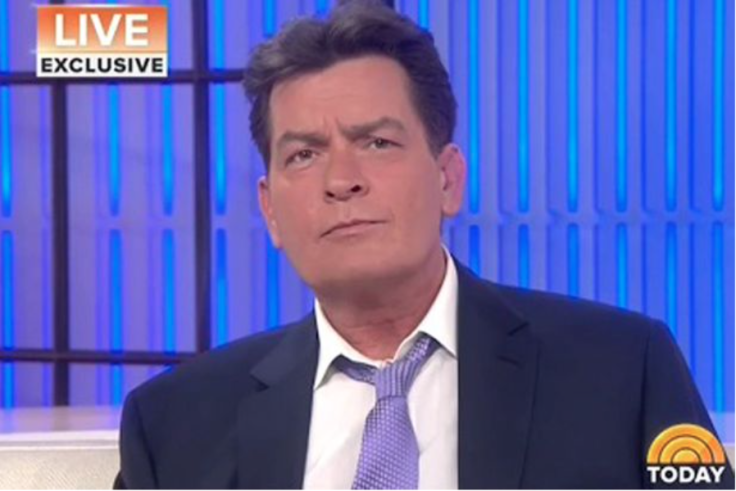 Sometimes the National Enquirer is right. On Monday, National media reported that actor Charlie Sheen was scheduled to appear on the "Today" show on November 17 to make a "revealing personal announcement." Rumors about Sheen's condition began back in 2014, when he was confronted about his HIV status but denied he was indeed infected with the virus.
During a very honest interview with NBC's Matt Lauer on Tuesday morning, the 50-year-old star speaks out about his disease and admits he is HIV positive, "I have to put a stop to this onslaught, this barrage of attacks and of sub-truths and very harmful and mercurial stories that are about me, threatening the health of so many others that couldn't be further from the truth," he told Lauer.
Sheen also commented that he decided to finally come clean about his diagnose, not only to clear his name and make a change, but to stop people he once trusted from blackmailing him, "What people forget is that that's money they're taking from my children," he continued. "I trusted them and they were deep in my inner circle, and I thought they could be helpful. My trust turned to their treason."
The former "Two and a Half Men" star confessed that he was diagnosed with the virus about 4 years ago; around the time he left the CBS hit series. He also shared that since then, he has had unprotected sexual relations with 2 people but they were fully aware of his condition.
Sheen's doctor, Robert Huizenga, joined the conversation to clarify that "Charlie does not have AIDS," as some people started saying on Monday. However, he's been under medication since he was diagnosed and has "magically, somehow in the midst of incredible personal mayhem, he's managed to continue to take these medications," said Huizenga.
Sheen also revealed that until this date, he has no idea how he contracted the virus but hopes that his confession will help dispel the stigma of HIV, "I have a responsibility now to better myself and to help a lot of other people and hopefully with what we're doing today others will come forward and say, 'Thanks, Charlie.'"
All of Sheen's sexual partners have been properly informed about his condition, including his ex-wives and children.
© 2023 Latin Times. All rights reserved. Do not reproduce without permission.