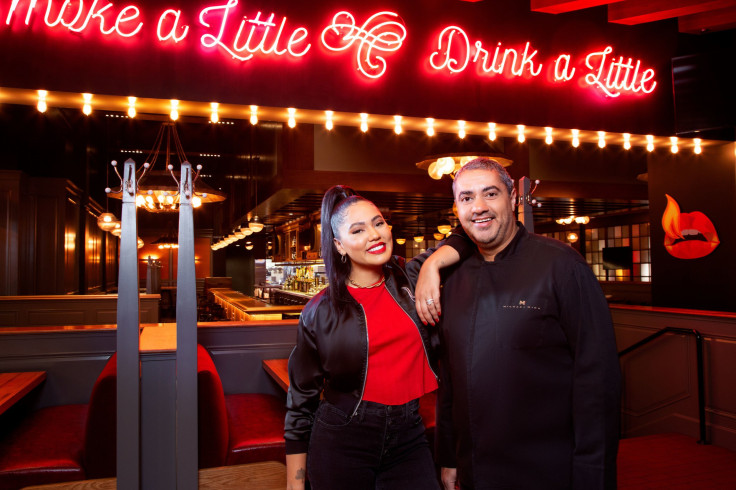 Chef Michael Mina and restaurateur Ayesha Curry bring the heat from the kitchen to the table with their wildly popular dining concept International Smoke, now open at MGM Grand Hotel & Casino. With family customs and global cooking techniques at its foundation, International Smoke celebrates culture and tradition with creative smoke-infused and wood-fired dishes.
Curry and Mina have created dishes that embrace barbecue and cooking styles from around the world. Offering an array of roasted shellfish, starters and entrées designed for sharing, the menu accommodates groups celebrating any occasion. From large family gatherings to girls' night or date night, to catch a bite before the game, International Smoke is a place to gather for exceptional food and everlasting memories.
- Signature Starters:
Ayesha's Fresh Baked Cornbread, glazed with Thai red curry butter, has quickly become a menu staple. Additional appetizers include Mama Mina's Falafel, a Mina family recipe, served with hummus, cucumber, and endive; Jerk Duck Spring Rolls served with mango chutney and green sauce; and Shaking Beef with gem lettuce, pickled daikon and carrots, black pepper and nuoc cham.
- Entrees:
Inspirations drawn from Jamaican, Mediterranean and American cuisines take the spotlight on International Smoke's menu. Braised Jamaican Oxtail, derived from Curry's family heritage of cooking, is a flavorful stew, abundant with red beans, coconut-jasmine rice, and scotch bonnets.
- 'From the Smoker':
Diverse grilling techniques and distinct spice blends converge at International Smoke with St. Louis Cut Pork Ribs, which are first grilled than smoked, available with a variety of house-blend sauces exploding with flavor, including American Barbecue, Vietnamese Chili-Lemongrass, and Korean Sesame-Gochujang; and the Smoked Korean Style Bone-In Short Rib, smoked for 17 hours on the bone, served with steamed rice, kimchi, and toasted sesame. The Whole 'Pulled' Pork Shank is Chef Mina's take on a 'build-your-own-taco' dish, with slow-cooked pork shank, spicy house pickles, pineapple salsa, and al pastor sauce, served with grilled corn tortillas.
- 'From the Wood-Fired Grill':
A decadent selection of steaks and seafood are made with different cultural preparations including red wine sauce with pearl onions and roasted potatoes; yuzu ponzu with baby turnips and Shishito pepper; and chipotle chimichurri with grilled peppers and sweet potatoes. Protein options are prepared on a wood-fired grill and include a 14-ounce New York strip steak; ahi tuna steak; and a 16-ounce Delmonico rib eye.
© 2023 Latin Times. All rights reserved. Do not reproduce without permission.