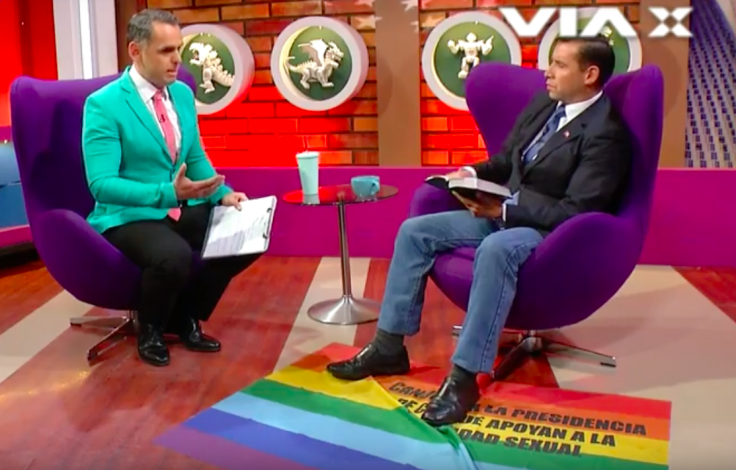 Pastor Javier Soto generated controversy and displeasure in the Chilean television show "El Interruptor," when he offended the LGBTQ community and TV host, José Miguel Villouta.
Soto took the multicolored LGBTQ flag from his jacket, placed it on the floor, stepped on it and left it under his feet. "I'm cold on my feet, so we're going to put a rug in. This is a rug that I use in the shows I'm doing. This is the filthy rag I'm going to put here to do the show. This is a filthy rag that I always use," said the pastor.
"Wow. I think that's disrespectful," Villouta said in a surprised way. Soto made it clear that he was going to leave the flag there, so the host gave his point of view. "I am homosexual, this is my show, and this seems to me a lack of respect and I can't accept this, so I would ask if you can take that out, to have the conversation we want."
The alleged pastor refused. "I insist, this doesn't have your name inscribed, it's just a cloth that reflects our campaign. You know we have a solid campaign against the ideology that Rolando Jiménez and Luis Larraín are promoting" he said. Rolando Jiménez is a prominent LGBTQ activist in Chile, and Luis Larraín is also a prominent activist who is now running for congress in the country.
Villouta kept insisting in removing the flag from the floor, but the "pastor" kept refusing, inciting the show's producer to come forward and politely ask him to please respect the space that was given to him. Soto chose to maintain his position and abruptly ended the interview, later being escorted out.
Villouta took his Twitter account and commented in a funny way what had happened by posting a picture of sorcerers: "Yesterday, after the Pastor Soto, I wanted to specifically see the witches of Eastwick. My kind of combo."
Watch below the terrible moment.
This episode was not overlooked by the Movimiento de Integracion y Liberacion Homosexual (Movement for Homosexual Integration and Freedom or MOVILH, by its Spanish initials), who released a statement manifesting that "stepping on the flag during a public interview is a despicable act, very serious and unprecedented, that offends and denigrates people based on their sexual orientation or gender identity."
The statement added, "Javier Soto is a constant danger for the respect to people's dignities, besides being deserving of our maximum repudiation for his constant violence, which we do not tolerate." It also recalled that "back in November 2015, Javier Soto was convicted of insulting, slandering, offending and assaulting the movement's leader Rolando Jiménez based on his sexual orientation. In the conviction, Soto was convicted of a 'hate crime' and 'discrimination,' as well as confirming he had never been a pastor."
© 2023 Latin Times. All rights reserved. Do not reproduce without permission.