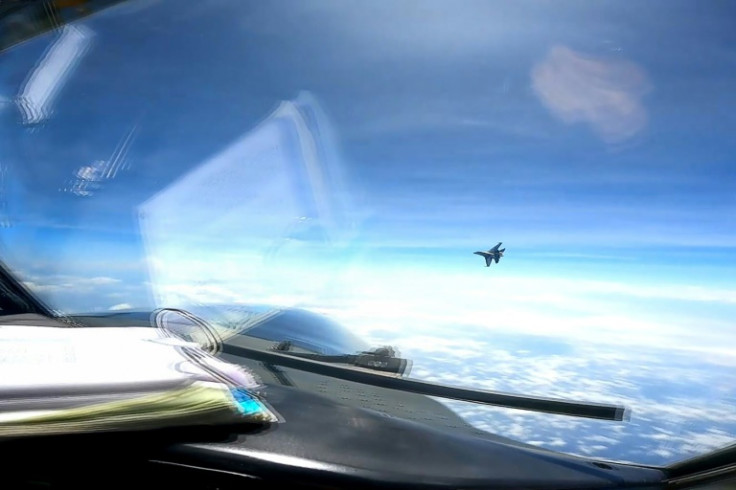 The latest military force to find itself at the receiving end of the China's pressure tactics as the country attempts to dominate the South China Sea is that of distant Canada: a PLA fighter jet recently made "unsafe" maneuvers near a Canadian military helicopter off the disputed Paracel Islands in the northern part of the South China Sea.
But Ottawa is hardly prepared to face the challenge.
Beijing lays claim to virtually the entire South China Sea as laid out in a new map it has published, which upgraded its infamous 9-dash line to a 10-dash line. The Paracel Islands are also subject to overlapping claims by Taiwan and Vietnam.
A Chinese fighter jet allegedly fired flares in front of a Canadian military chopper late last month – the latest of two recent encounters that the Canadian Sikorsky Cyclone helicopter had with Chinese People's Liberation Army Navy (PLAN) J-11 warplanes.
"The risk to a helicopter in that instance is the flares moving into the rotor blades or the engines so this was categorized as both unsafe and nonstandard, unprofessional," Maj. Rob Millen, the air officer aboard the Royal Canadian Navy frigate HMCS Ottawa, told CNN on Friday.
In the first incident, Chinese fighter jets got as close as 100 feet from the chopper, Millen said. The second incident which involved flares fired at the chopper was a "rare" one, he noted. The incidents occurred while the Canadian helicopter was monitoring a previously undetected submarine.
"The PLA is seeking sea control of the South China Sea and may be creating an SSBN (Soviet nuclear-powered ballistic missile submarines) bastion – an area of sanctuary where ballistic submarines armed with ICMBs (intercontinental ballistic missiles) that can reach North America for deterrence and defense in a future conflict," Patrick M. Cronin, chair for Asia-Pacific Security at Hudson Institute, told International Business Times.
China establishing a bastion for submarines may not be far off as analysts and regional defense attaches suggested earlier last month that China was on track to have its Type 096 ballistic missile submarine operational before the end of this decade.
Retired submariner and naval technical intelligence analyst Christopher Carlson said China's Type 096 subs "are going to be a nightmare" because they will be "very, very hard to detect."
Hudson Institute's Cronin noted that China may have had "a serious tactical reason" to disrupt the Canadian helicopter's tracking of the previously submarine.
Chinese foreign ministry spokesperson Wang Wenbin said during a press briefing Friday that he has no information on the incidents but that Beijing "did make our solemn position clear several times on Canadian warplanes' frequent so-called reconnaissance activities close to Chinese airspace." He went on to warn that Ottawa should "restrain its inappropriate behavior to prevent further complication of the situation."
Canadian media reported in mid-October that Chinese military warplanes conducted "dangerous and reckless" maneuvers near a Canadian Armed Forces Aurora reconnaissance aircraft in international waters. Maj. Gen. Iain Huddleston, commander of Canada's 1st Air Division, said at the time that the Chinese jets "became very aggressive and to a degree would deem it unsafe and unprofessional."
Beijing responded saying a Canadian aircraft illegally intruded into its territorial airspace.
The latest incident was similar to that one as Millen, who was piloting the Sikorsky Cyclone, said "it became unsafe" at one point when Chinese warplanes circled around the chopper.
Gregory Poling, senior fellow and director of think tank Center for Strategic and International Studies' (CSIS) Southeast Asia Program and Asia Maritime Transparency Initiative, said Beijing may believe that creating "the risk of collisions" will convince stakeholders around the contested waters to accept China's "unique, and illegal interpretation of international law."
But he said China misreading the situation could lead to wider conflicts. Poling told IBT that sooner or later, as Beijing continues to push its own international law interpretations on Southeast Asian nations and their western allies, it could lead to "a collision like the EP-3 incident of 2001."
That incident, on April 1, 2001, saw a PLAN J-811 warplane collid with a U.S. Navy EP-3 intelligence aircraft approximately 70 miles off of China's Hainan province. The collision led to the death of the Chinese fighter jet's pilot. All 24 crew members of the U.S. naval aircraft were detained in China for 11 days after they made an unauthorized emergency landing at Lingshui airfield due to the significant damage sustained by the aircraft.
The American crew of the EP-3 were released unconditionally on April 12 but the U.S. navy aircraft was dismantled on Hainan and China took a "large amount of material" from the intel plane before it was returned to the U.S.
Should a similar incident take place between a Canadian aircraft and a Chinese fighter jet, Poling said the worst case scenario is putting "Sino-U.S. or Sino-Canadian relations into an even deeper freeze from which it might be impossible to emerge."
Regardless of whether the latest Canada-China encounters off the Paracel Islands will be deemed "deliberate or simply coincidental retribution," China has now put Canada "on its list of troublemakers who must be schooled in power balances," Cronin pointed out.
Compared to the United States, Canada's naval power is "under-invested" in the Pacific. Joe Varner, deputy director of the Conference of Defense Associations, wrote that although the Canadian government has expressed interest in investing in Asia-Pacific defense, the Canadian military force is "years away" from being positioned as a critical decision-maker in talks about the region's defense.
The Royal Canadian Navy, the Canadian Army and the Royal Canadian Air Force are all "critically short of personnel" and do not have the amount of equipment expected of a force that could significantly increase its presence in the Indo-Pacific in the near term.
In the 2023 Global Naval Powers Ranking, China's PLAN is only second to the U.S. in naval capacity, while the Royal Canadian Navy is way down on the 23rd spot -- not even close to the naval capabilities of four other Asian nations riding with Beijing and Washington in the Top 10.
In the short term, Canada may leverage its ties with the U.S. to build up its presence in the contested sea. However, with China viewing Canada as "a weaker link" and just another member of the U.S. "alliance network that needs to be weakened," Ottawa "needs to defend itself with a stronger navy and greater political resilience at home," Cronin said.
© 2023 Latin Times. All rights reserved. Do not reproduce without permission.