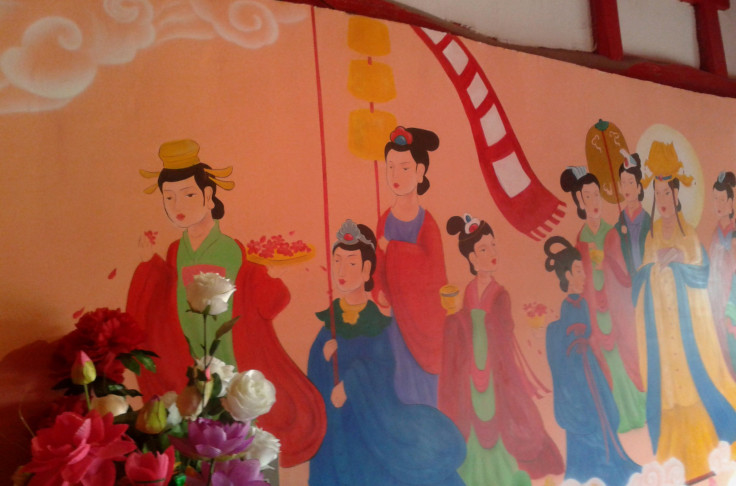 Chinese temple restoration has reached a new low after images leaked online show the disasterous results when restoration becomes destruction. Outrage has been sparked online after a 270 year-old fresco in China's northeast has been 'restored' by Chinese authorities painted over the Qing dynasty paintings with garish, cartoon-like images from Taoist myths. The Global Times reports that the Yunjie temple in Chaoyang in the province of Liaoning was restored by an unauthorized, unqualified company, leading to disastrous results. The original frescoes date back to the Qing Dynasty (1644-1911), however, they have now been completely obscured by a series of colorful, cartoonish representations completely unrelated to the original images. Two officials have reportedly been fired over the incident, which is the latest in a series of controversial restoration projects which have occurred in China.
Restoration of this ancient Chinese temple was carried out by local authorities. The abbot of the small temple applied for restoration permits, however, when it was revealed that the work would cost 4 million yuan ($660,000), local authorities stepped in and hired a local company without getting approval from provincial government authorities. The company they hired clearly botched the job, replacing priceless frescoes with cartoon-like images in bright colors. An online user known simply as Wujiaofeng posted images of the failed restoration in this ancient Chinese temple, igniting a furore online.According to the BBC the local office in charge of the disasterous restoration was given a warning, and the offical in charge of the temple's affairs as well as the head othe cultural monitoring team were both fired.
The controversy comes on the tail of numerous restoration projects that have been everything from disappointing to downright disastrous. In Spain last year, a 19th century ecce homo fresco of Jesus by Elias Garcia Martinez was supposedly 'restored' by an elderly woman, Cecilia Gimenez, who undertook the project on her own volition as she was upset by the decrepit state of the fresco. The result was a complete disfiguring of the original work, giving the Savior a monkey-like appearance. The botched restoration ignited social media and prompted numerous parodies. Even the restoration of Michelangelo's Sistine Chapel in the 80s and 90s has been called a "disaster" by some art critics, who maintain that the restorers removed the subtle modeling and shading of the Italian master, leaving instead a garish, crude recreation. Clearly the Chinese effort is a joke in comparison, however, it is a reminder of the care that must be taken when determining how we restore art work all over the world.
© 2023 Latin Times. All rights reserved. Do not reproduce without permission.