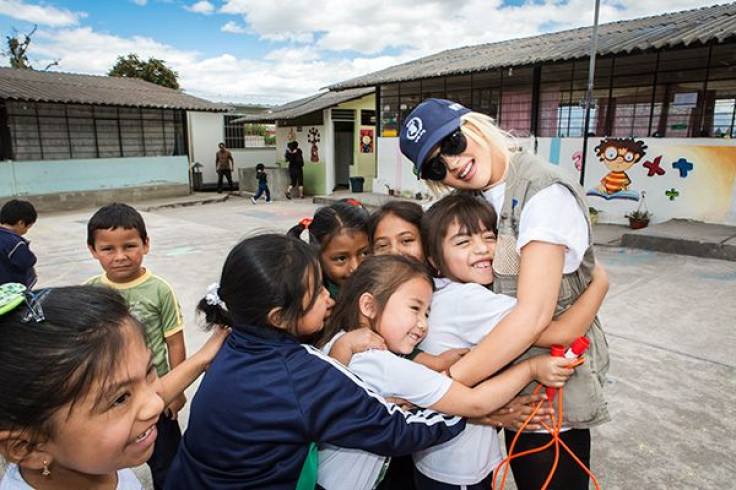 "The Voice" judge, Christina Aguilera, has been a volunteer spokesperson for the Yum! Brands' effort since 2009 and in this occasion she decided to travel to her father's native Ecuador for the first time. "It felt much better to me that I was in a place that I felt so connected to and was able to give back to," said the singer," the singer explained. Aguilera went to the country's capital city, Quito, before going into the farmland and impoverished areas in the countryside.
"This was a really interesting and raw way to go about it. It wasn't like I vacationed there in one of the more beautiful spots such as Galapagos Islands or things like that. I went into the fields and got to meet the women and children there who are really trying to survive," she told the Associated Press. The singer also explained this was especially important to her since she does not have a "consistent relationship" with her father, so she wanted to "go visit where my dad comes from, the culture… There's a history there. But, you know, it is a part of my blood and a part of my heritage and a part of my people," she explained.
Aguilera's trip also included visiting schools and providing lunch for children who have to travel far to get to school. "It takes these kids 45 minutes walking by themselves, alone, up a hill," the singer said. All of this while filming a a public service announcement to raise hunger awareness that will be released next month. In addition to the new PSA, Aguilera raises awareness for the global hunger issue through World Hunger Relief posters at KFC, Pizza Hut and Taco Bell restaurants, plus online efforts including the campaign's website, HungertoHope.com. She has served as a volunteer spokesperson for World Hunger Relief since 2009 where her participation has helped raise millions for WFP and other hunger relief agencies. She also serves as an "Ambassador Against Hunger" for WFP where she has traveled on several relief trips with them.
© 2023 Latin Times. All rights reserved. Do not reproduce without permission.