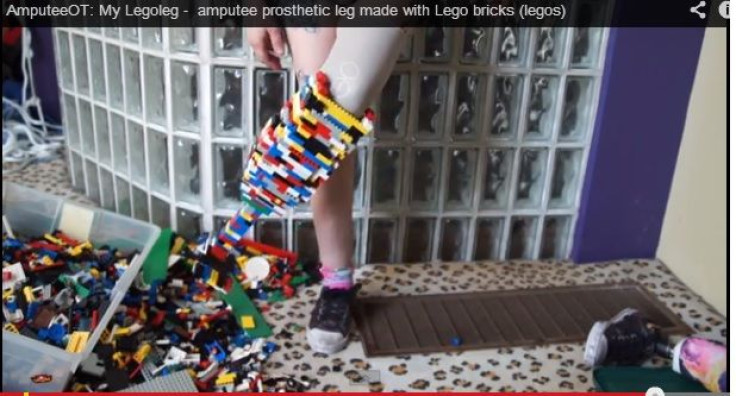 After a coworker suggested to Christina Stephens that she should build herself a prosthetic leg made out of Legos, the creative amputee did just that.
In a video posted on YouTube, the occupational therapist from St. Louis sits down, removers her prosthetic leg and begins to build another one made entirely out of Legos. Even her socket, for securing the prosthetic to the remaining part of her leg, is made out of Legos.
It takes just the right pieces of those fun, colorful building blocks to piece together a leg for Stephens. Needing to put her non-Lego prosthetic back on in order to grab another box of Legos, the crafty amputee is able to build herself a Lego leg.
Stephens is able to stand up, but cannot take more than one or two steps before the Lego leg breaks apart. Always keeping a smile on her face, Stephens giggles as she loses her balance when the Legos fall apart.
Earlier this year Christina Stephens was working on her Toyota Prius when it fell crushing her left foot, resulting in the amputation of her leg below the knee.
A free spirit, Stephens was not going to let this keep her down. She started a Facebook page and a YouTube channel under the name Amputee OT. On both pages, Stephens posts videos of herself working through her physical therapy and explaining how it feels to walk with a prosthetic leg.
In one photo Stephens posted an image of her Prius after another driver sideswiped the car. Stephens writes that the spot the other driver hit it was the same spot where the car had "viciously attacked my left foot in January."
Stephens added, "Do you think Toyota would take pity on me since I was working on my Toyota Prius when it fell on my foot and sponsor me for a running leg?" Friends on her page said left comments saying it couldn't hurt to ask.
Stephens was excited to learn that Lego Gizmodo had discovered her video and did a write up about it. They referred to her design as "fantastic construction and awesome sense of everything."
HOT NEWS NOW
Kate Middleton Due In July; Royals Looking To Change Succession Rules So Girls Have Equal Chance To Reign
Kaley Cuoco, Henry Cavil Dating? 'Big Bang Theory' Star Hints At Relationship With 'Man Of Steel' [PHOTO]
Alicia Silverstone Starts Breast-Milk Sharing Program For 'Kind Life' Vegan Moms [VIDEO]
© 2023 Latin Times. All rights reserved. Do not reproduce without permission.