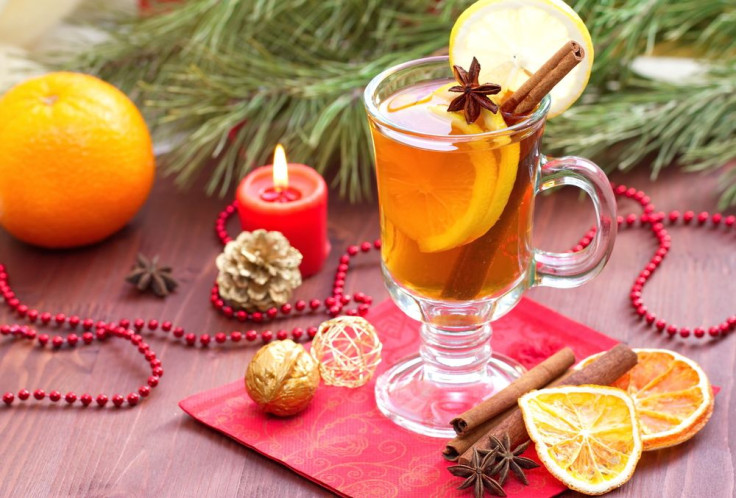 Christmas is such a fun time of year, with endless festive activities, presents, feasts and of course cocktail parties. The holiday season is highly anticipated when it comes to hosting cocktail parties and wearing sparkles, so in order to avoid being like everyone else this year with their hot-toddies and mulled ciders, we have 6 Christmas themed cocktails that are not only delicious, but different! Instead of serving your guests the standard and bland options, spice it up this year with easy to make, though specialty drinks that all have an adorable holiday theme. If you don't feel like playing bartender all night, you can construct a bar are with large pitchers of a few cocktail options, complete with accompanying garnishes that can be arranged in cute Christmas bowls. Guests will have the ability to pour their own, drink and add as much garnish as they enjoy, plus the colored cocktails and festive garnishes like oranges, cranberries, and cinnamon sticks like fun and celebratory! Check out the recipes for the drinks below and enjoy.
Jingle Bell on the Rocks
1½ oz. Sobieski Raspberry Vodka
½ oz. Crème de menthe
2 oz. Cranberry juice
Lime twist and lime-flavored salt for garnish
Moisten rim of chilled martini glass with crème de menthe; dip into lime-flavored salt to rim, add fresh ice, and set aside. Pour all liquid ingredients into an ice-filled shaker. Shake and strain into garnished martini glass. Garnish with a lime twist and serve.
Sobieski Sleigh
2 oz. Sobieski Vanilia Vodka
½ oz. Kerrygold Irish Cream
Splash of pomegranate juice
Cinnamon stick for garnish
Combine Sobieski Vanilia Vodka and Kerrygold Irish Cream into a glass with ice. Top with a splash of pomegranate juice. Garnish with a cinnamon stick and serve.
Cranberry and Mint Martini
Ingredients:
8 oz. Fresh Mint leaves
2 fl. oz. Ketel One Vodka
1 ½ fl. oz. Cranberry juice
Fresh cranberries
¼ fl. oz. Pomegranate (grenadine) syrup
Directions: Muddle mint in the base of your shaker and then add remaining ingredients. Shake with ice and then pour the beverage into the chilled glass of your choosing.
Express Train
1 Part Hornitos® Spiced Honey
1 ½ Parts Hot Espresso
Pinch of Cinnamon
Preparation: Combine all ingredients in a shaker, shake vigorously and strain into a glass. Garnish with a pinch of cinnamon.
CAMUS Milk Punch
1 ½ oz. CAMUS VSOP Elegance Cognac
½ oz. simple syrup
½ oz. vanilla extract
3 drops Herbsaint
half and half
Nutmeg for garnish
Pour all ingredients into a glass filled with ice. Fill the glass with half and half. Toss mixture between your glass and a metal bar shaker 3 or 4 times. Do not shake! Pour contents back into glass and garnish with freshly grated nutmeg.
Created by Paul Gusting from Broussard's Restaurant in New Orleans, LA.
La Rosa by Jacques Bezuidenhout
1 ¾ oz Partida Blanco
¾ oz fresh lemon juice
½ oz agave nectar
¼ oz water
8 to 10 raspberries
Sparkling wine or Champagne
Shake all ingredients with ice except for sparkling wine and strain into a chilled cocktail glass. Top with sparkling wine or Champagne. Garnish with a lemon twist and 3 raspberries on a pick.
Santa's Little Helper
For the cocktail:
1 ¼ oz. CAMUS VSOP Cognac
1 oz. raspberry shrub
Soda water
In a cocktail shaker with ice, add CAMUS VSOP Cognac and raspberry shrub. Shake and strain into a rocks glass and top with soda water. Stir and serve.
For the raspberry shrub:
1 oz. fresh raspberries
1 oz. sugar
1 oz. water
½ oz. white vinegar
In a saucepan, combine the sugar and water, stirring until the sugar dissolves. Add in the raspberries and simmer until the raspberries' juice blends into the sugar syrup. Let mixture cool and strain to remove the seeds and solids. Add vinegar to the remaining syrup. Store in fridge.
Created by Paul Gusting from Broussard's Restaurant in New Orleans, LA.
HORNITOS® Tequila Toddy
2 Parts Hornitos® Plata Tequila
4 Parts Hot Water
¼ Part Honey
¼ Part Agave
1 Lemon Wedge
1 Piece of Cinnamon
2 Cloves
Preparation: Add all ingredients to a coffee cup or heatproof glass. Stir and let steep for one minute.
Jingle Juice
Ingredients:
5 cups orange juice
1 cup vodka
1/3 cup orange liqueur
¼ cup fresh lemon juice
½ cup maraschino cherry juice
Garnishes - Fruit-flavored candy cane, cherries w/ stems, orange and lemon slices
Directions: Stir orange juice and additional ingredients before serving over ice. Add garnishes based on desired flavor. Extra orange juice may be used in place of orange liqueur if needed.
The Grinch
1 ½ oz. Lucid Absinthe
½ oz. ginger liqueur
6-8 mint leaves
Soda water
Muddle mint in bottom of glass and fill with ice. In a cocktail shaker, add ice, Lucid Absinthe and ginger liqueur. Shake vigorously and strain into glass. Top with a splash of soda water. Garnish with mint leaves and serve.
Mexican Mule Log
1 Part Hornitos® Black Barrel® Tequila
⅓ Part Simple Syrup
⅓ Part Lemon Juice
Rosemary
Ginger Beer to top
Preparation: Lightly muddle one rosemary sprig in a glass, combine remainder of ingredients except ginger beer in a shaker with ice, shake vigorously, strain into the glass over fresh ice and top with ginger beer. Garnish with a rosemary sprig.
Sparkling Holiday Mimosa
Ingredients:
1 ounce amaretto
¼ cup fresh orange juice, chilled
1 ½ oz. Vanilla vodka (brand of choosing)
Cranberry simple syrup (1 bag frozen cranberries, 1 cup sugar, 1 cup water)
Ice
¼ cup frozen cranberries
¼ cup chilled sparkling wine
Orange zest twist
Directions: In cocktail shaker, add orange juice, amaretto and vodka. After stirring, pour 1 ½ tablespoons of cranberry syrup into chilled glass filled with ice. Add orange juice mix. Add cranberreis, and sparkling wine, garnish with orange twist and serve immediately.
Reindeer Red
1 oz. Ungava Gin
1 oz. Campari
3 oz. lemon seltzer
1 oz. sparkling wine
Peeled orange slice for garnish
Combine Ungava Gin, Campari, and lemon seltzer in an ice-filled glass. Stir gently to combine. Top off with your favorite sparkling wine. Garnish with a peeled orange slice and serve.
Winter Mint
1 ¼ Parts Hornitos® Black Barrel® Tequila
½ Part Lime Juice
¾ Part Simple Syrup
Mint Leaves
Preparation: Muddle mint leaves in a glass, combine remainder of ingredients in a shaker with ice, shake vigorously and strain into the glass over fresh ice. Garnish with a sprig of mint leaves.
Grapefruit and Rosemary Christmas Cocktail
Ingredients:
¼ cup crushed ice
1 tablespoon of fresh rosemary
1 1/4-inch thick sliced grapefruit
1 ½ oz. Vodka (brand of choosing)
4 oz. Seltzer water
Garnish - grapefruit slices and rosemary sprigs
Directions: Muddle together ice and rosemary in cocktail shaker then add grapefruit slice and muddle once more. Add vodka and seltzer once completed and strain into glass. Extra ice can be added to glass if needed.
Cherry Frost
Ingredients:
3 tablespoons black cherry liqueur
1 tablespoon of brandy
1 cup ice (crushed)
4 tablespoons sparkling white wine
Garnish - maraschino cherries (if desired)
Directions: Add black cherry liqueur, brandy and crushed ice into cocktail shaker. Cover with lid and shake until chilled. Strain into champagne glass and top with sparkling white wine. Add garnish if needed.
© 2023 Latin Times. All rights reserved. Do not reproduce without permission.