The holiday season is upon us, and for many people, it's a period of time for happiness and joy, for seeing loved ones and people they care about and expressing that care to them in a hearty and thoughtful way that allows all of your worries and doubts to fade away, even if it's just for that one day or that one period of time.
It's a yearly tradition for many at this point, one that people care about a lot. However, even with all that cheer, it can be exhausting to keep up with. As a way of keeping that festive feeling going, here are some delicious holiday cocktail recipes that you can easily enjoy with your family this holiday season.
Sweet drinks for a sweet season
As the holiday season progresses, of course many people will think that there's only the egg nog and the occasional rum Cola that you can enjoy during the Christmas season. Those people could not be more wrong. Christmas is a festive and joyous time to be alive, and the drinks that you have in your hands should reflect that season's cheer, according to Cosmopolitan.
For those hankering for some sweet, delectable fruity tastes, you can try the Pumpkin Pie Martini, which is basically 2 ounces of Patrón Silver, 1.5 ounces of orange juice, 1.5 ounces of pumpkin purée, 0.75 ounces of lemon juice, and 1 ounce of honey pumpkin spice syrup put in a cocktail shaker and shaken.
The honey pumpkin spice syrup is a separate recipe, of course, where you whisk together 1 cup of water, 1 cup of honey, and 2 tsp pumpkin pie spice blend, before putting the resulting mix to a boil with high heat before letting the mixture cool it.
Of course, if you'd like your sweet festivity drinks to be sweeter and less fruity, you can also try the cocktail Ring the Bells, which combines 0.75 ounces of The Pathfinder Hemp and Root, 0.75 ounces of Cognac, 0.5 ounces of Faretti Chocolate Liqueur, and a final addition of 0.75 ounces of orange juice into a cocktail shaker. After shaking, you strain it twice and add it to a coupe glass for extra style.
Finally, if you're thinking more of a mix between fruity and sweet, then maybe the Cinnamon Apple Smash is the cocktail for you. It's a simple mix of 1.5 ounces of King St. Vodka, brown sugar simple syrup, and ice, with half an orange squeezed into the mixture to before shaking it in your cocktail shaker for 30 seconds. Add some apple cider on top for that extra sweet taste.
Fancy drinks for the festive ones out there
Of course, Christmas cocktails isn't just about drinking sweet treats with loved ones. Maybe you'd like your alcohol to be stronger, or maybe, in that sweetness barrage, you want something simpler, something that knocks you right out and gives you the buzz you need to enjoy the festivities, according to Cosmopolitan.
If that's your thing, then these recipes are the one for you.
This one is simply called 4-3-2-1, and it's real easy to make. You just add a few drops of your favorite bitters into a sugar cube, and then drop it in a champagne flute before adding 1 ounce of cognac and 4 ounces of chilled Bolla Prosecco. It's simple, very minimal effort, but still very much in theme with the Christmas cheer.
The Mistletoe Mule is a lot more complex, but it gives you that bittersweet aftertaste that you may be yearning for. Just shake 2 ounces of Citrus Forward Gin, 1 ounce of lime juice, and 2 dashes of cranberry bitters with ice. Put it on a mug and add four ounces of ginger beer, and voila, a gin-ready recipe for your drinking pleasure.
A quick mocktail recipe for the non-alcoholics
Of course, maybe you're the type to not drink for a variety of reasons, whether it's youth, or sobriety, or because you're the designated driver. You can still have your own mocktail if you're really hankering for one with this Winter Wings recipe.
You shake up 1 ounce of fresh lime juice together with 0.5 ounces of organic wild honey, and then you put it in a cup and top it off with ice and Red Bull Winter Edition Plum Twist. You can also garnish it with some basil for extra flair.
Holiday cheer for everyone
The holidays can be stressful, and it can be fun. It all depends on how you approach it. With these cocktails in your arsenal, you can be sure that the approach that you'll have is one that gives you the right amount of zing and pep that you'll need to maximize enjoyment with your loved ones at all costs.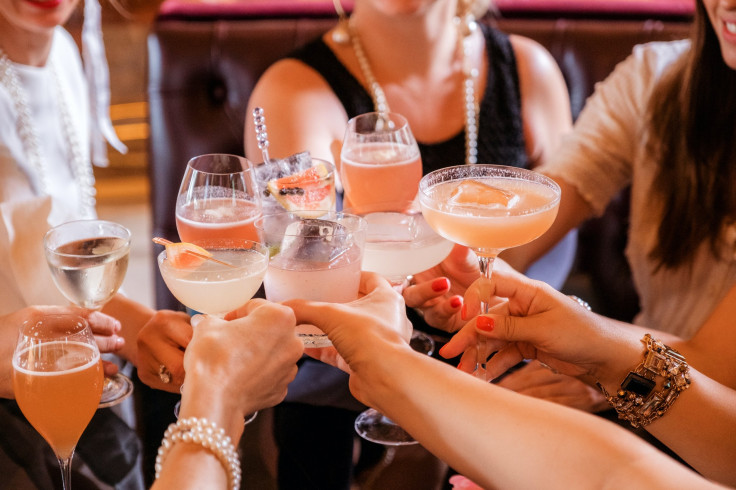 © 2023 Latin Times. All rights reserved. Do not reproduce without permission.