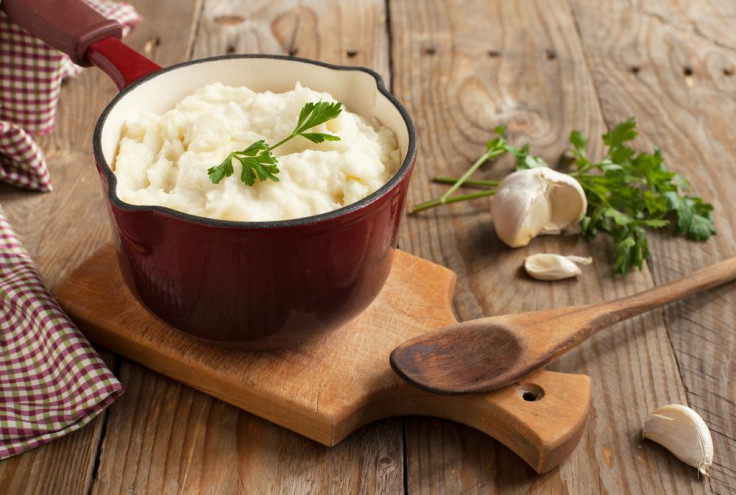 No plate is complete without a main dish and as many sidekicks as everyone's heart desires, especially on Christmas eve. This in no way means that you have to get extra stressed to prepare trillions of sides, in fact, it also means that you can ask others to bring them or make a few of your favorites. Most of the recipes we picked can be made in advance, and popped in the oven before you're ready to serve the grand feast. Check them out!
Southern Living's Au Gratin Potato Casserole or Mashed Potatoes: Almost every household's Christmas table can't be complete without a potato side. If this is your case, SL cheesy, creamy potato gratin is the perfect way to accompany your main dish. And if you're looking to wow your guests with dreamy mashed potatoes, this is your chance to shine! Get the recipes here.
My Recipes' Cheesy Broccoli-and-Rice Casserole: The perfect hearty, cheesy side has a touch of veggies that will satisfy even your most picky eaters and make for an absolutely scrumptious side. Get the recipe here.
Cooking Channel's Honey-Roasted Sweet Potatoes: Super easy to make, this sweet side is the perfect complement for your savory main dishes and will no doubt be a crowd-pleaser. Recipe here.
Chipotle's Cilantro Lime Rice: Say goodbye to white bland rice with this rice recipe straight from the chipotle kitchens! A touch of lime and cilantro will bring you right back home and give your dinner a subtle Latin twist. Check it out!
Red Lobster's Cheddar Biscuits: Why have bread when instead you can have cheddar biscuits? That's a great question. This great copycat recipe is perfect to make your Christmas table's bread basket, even fancier than a restaurant's. So delicious!
Or for a Latin version... 'Simply Recipe's' Easy Brazilian Cheese Bread (Pão de Queijo): Baking can be a bit daunting when you have no experience, but this recipe is super easy and flavorful. Serve them warm and get ready for them to fly out of the bread basket! Try this recipe.
Food Network's Southern Cornbread Stuffing: If you're planning on making stuffing as a side, this is a great recipe which uses shortcuts like adding Saltines for texture and flavor. Don't be scared to try something new, it's easy and tasty. Give it a try!
Southern Living's Mac & Cheese: This side is perfect for both, the kids' and the adults' table. It'll satisfy your family's cheese craving and complement your meat with its creaminess. Check it out!
Comida Kraft's Corn, Bacon and Cheese Casserole: One of the reasons this is a great recipe, is it can be a delicious substitute to the usual cornbread stuffing. The mix of textures and flavor in this easy side dish are so good, your family's going to love it! Try it out.
Or with a kick, All Recipes' Chipotle Mac & Cheese: Spice up your pasta side by adding a touch of smoky, spicy flavor to your traditional Mac and bring it to the next level. Check it out!
Martha Stewart's Hatch Chile Corn Pudding: A dish that combines three things we love dearly: cheese, corn and chile. The Monterey Jack-topped casserole is made with green chiles from New Mexico and will make an excellent sidekick for your main dishes. Recipe here.
If you're planning a more Latin inspired menu, this can make for a great side, Aaron Sánchez's Sopa (de fideo) Seca: The Chef describes the dish perfectly: "You see it in homes throughout Mexico, one of the many foreign foods that we have welcomed into our cuisine and something I ate growing up. We call this Mexican comfort food, funnily enough, sopa seca, which means 'dry soup.'" Find the recipe here.
© 2023 Latin Times. All rights reserved. Do not reproduce without permission.