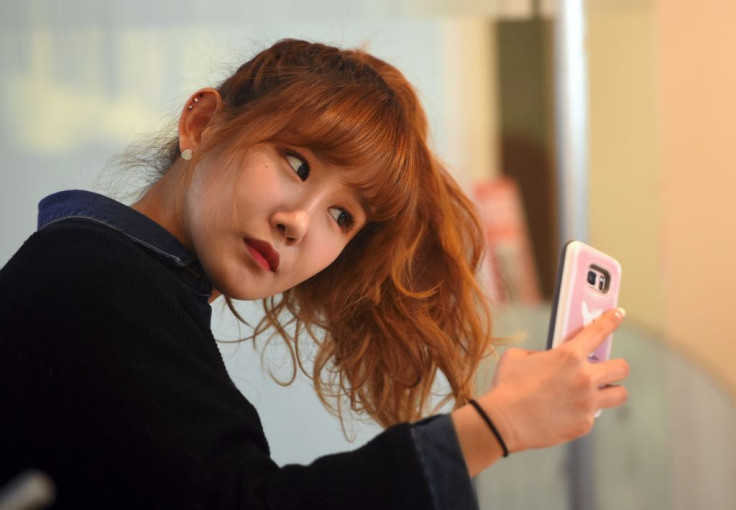 Christmas is a great time to give yourself a rad makeover. But, makeovers needn't be extreme or exorbitantly priced. Well, these incredibly quick and easy DIY make-up looks for the holidays are proof. You may thank us later!
1) Beat the blues with a dash of blue: Eyeliners will never go out of vogue, as everyone knows the power of a stroke. Just in case you wish to add some color to your look, get started by opting to highlight your eyes using an underliner. Shades of blue and green are recommended, and this fuss-free yet the impactful look is easy to style. Do up your hair in a top knot, and team it with nude lips and filled in brows. Voila, you're good to go!
2) Coral to the rescue: If a pop of color is your thing, painting your pout with a hint of fresh fruity coral is highly suggested. Camila Mendes rocked the coral look with panache, and if you do a little research it will be known that achieving the look is barely any work! While it's normal to settle for Crimson red for Christmas, taking a slight (make-up) detour never hurt anyone! Keep it simple and go sober with the rest of the look. You may want to skip the kohl to draw attention to your lips.
3) All hail, the highlighter: Ask any beauty blogger, and they'll vouch for the magical powers of a great highlighter. This festive season, let your highlighter do the talking. You may take a tip or two from Halsey's recent appearance, where her highlighter game was on point. The soft-barely there highlighter works well for everyone. P.S: Do ensure that you sweep it on lightly using a glittery highlighter and dense brush.
4) Shimmer like a siren: A hint of glitter only made things brighter! One of the easiest ways to draw attention to your eyes is by adding a shimmery eyeshadow into the corner of your eyes. Do it with a flat eyeshadow brush for better results.
5) Peachy lips, lids, and cheeks? Yes please: Kendall Jenner might look like a million bucks, but achieving one of her current looks barely costs half as much. In fact, the peachy lips, lids and cheeks look could be achieved with an economical budget. Grab a peachy cream blush—preferably of great quality—and dab it on your cheeks, dot it on your lips and press it into your lips.
6) The reign of gloss: Kim Kardashian gave us serious beauty goals with her dripping MET Gala look. It turns out, the look CAN be achieved without burning a hole in your pocket. Provided you set some time aside to cart some great buys—quality eyeshadow and clear gloss to begin with. To achieve this uber-sensuous look, all you've got to do is top of your eyeshadow with a hint of clear gloss. Rest assured, the shine will get people to sit up and take notice of your make-up skills.
7) Go Classic with Rep Lips and Wings: If there's one make-up look which has stood the test of time, it has got to be the red lips and winged eyeliner look. The sharp cat-eye and a bold lip is the perfect choice for Christmas. You really can't go wrong with this one.
8) Glitter lips: If taking things up a notch is your thing, how about turning on the heat with glittery lips? All you've got to do is paint your lips with creamy red lip color and then dab a layer of superfine, crimson-colored glitter. And, you go girl!
9) Shimmery Smokey eye: Christmas is the time for some fun, and sporting Smokey eyes is the best ways to get started. Get started by smudging a brown shadow across your eyelid and underneath your bottom lashes. Finish up by adding a bronze shimmery shadow on top. Result? 'Smoky'ing hot, indeed!
10) She came, she saw and she contoured: Well, Gigi Hadid is an icon in her own right. And, more often than not, her make-up is on point. If contoured cheekbones are your thing, begin by blending in a taupe shadow into the crease of your eyes. Follow this up by blending a little more on the underneath your bottom lashes, and then repeat the process below your cheekbones with a contour powder. Complete the look by patting a gold shimmery shadow along your eyelids and in the center of your pout.
© 2023 Latin Times. All rights reserved. Do not reproduce without permission.