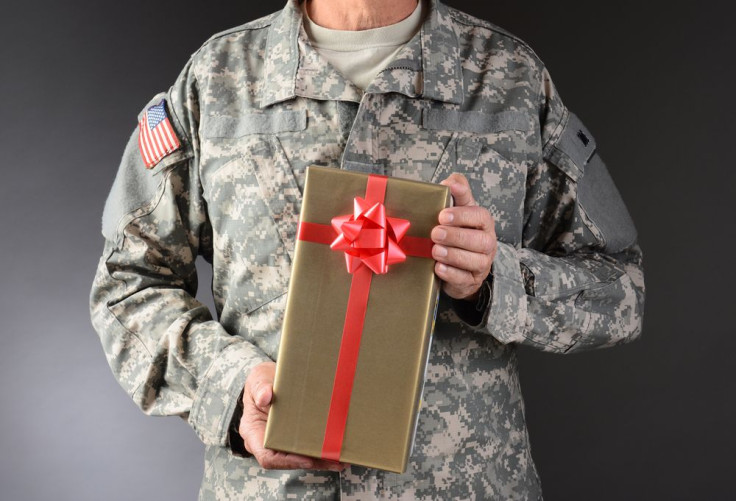 It's Christmas time! As the year comes to an end, we prepare to bid it farewell by celebrating with our friends and loved ones, but unfortunately, there are people who won't be home for the holidays. Our troops work so hard to keep our country safe and most of all, free, and they won't get to spend Christmas with their family. So what better way than to honor those who give their all so we can feel secure here with a nice warm and heartfelt message? There are many sites online where you can post your support notes like "Send a Message to the Troops" or "Operation Gratitude."
Since Christmas cards are a time honored tradition and people look forward to them, sometimes coming up with pleasant sayings for a card can be a daunting task. Many stress about what to say, how it sounds and what the person reading it will think, especially for such an important card will go to someone that we might not know, but want to make them happy since they're serving our country. Here are some messages and sayings tailored for our troops who are deployed and won't spend Christmas at home, so they feel a little bit of the warmth and love this holiday season.
"For you soldiers, I wish you all a Merry Christmas. I pray to Lord Jesus to bless you all with love, happiness and loads of festivity as you welcome the spirit of Christmas with vigor. Have a merry Christmas, soldiers."
"I wish all the troops a merry Christmas. Let this Christmas shower your life with cherished moments of love and happiness as we welcome baby Jesus together with festivity."
"We wish you soldiers a merry Christmas and send you love and gifts for everyone to make your Christmas special and make you happy on this special festival of joy."
"For all the troops, I send love, Christmas wishes and gifts to make your Christmas sweet and special. I pray to Lord Jesus to bless you all with happiness and cherished moments this Christmas to make it memorable for all."
"Christmas is the welcoming of baby Jesus on earth. All brave soldiers, let us all welcome Jesus with love and pray him for peace and prosperity in the country and the world and to bless us all with happiness and love for each other always."
"Merry Christmas greetings to all the troops. Let this Christmas be special with moments of joy and happiness celebrated together with feast and festivity."
"Dear Soldier, your commitment to our country's integrity and freedom is so greatly appreciated. People like you make me proud to be an American. Know that what you do matters. You make our world a better place. Merry Christmas and a Happy New Year."
"Dear Soldier, my best wishes for a joyful and peaceful holiday season for you and your family, and for a full recovery. Thank you so much for serving our country."
"May your Christmas be safe. All of you are in my family's thoughts and prayers each day. You will forever have our gratitude, support and pride in all that you do. God Bless You."
"Thank you for all you have done for our country. God Bless each and every one of you. Have a Merry Christmas and Happy and safe New Year."
© 2023 Latin Times. All rights reserved. Do not reproduce without permission.