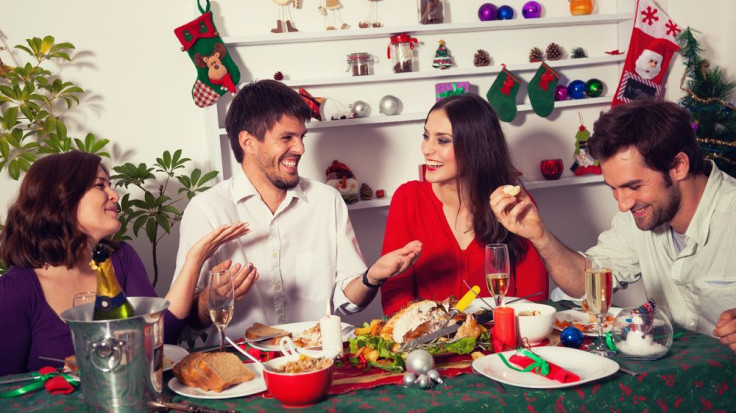 Christmas is almost here, and before the highly anticipated holiday finally arrives, everyone is actively working to ensure that their Christmas is filled with festive fun, presents and of course a bountiful Christmas feast!
So if your holiday shopping is done, and your grocery shopping is complete then the last thing to accomplish on your to-do list is holiday themed entertainment for your guests! But have no fear, while making sure that all of your friends and family are enjoying the good tidings and cheer can be a difficult task to handle, it just got a whole lot easier.
Everyone loves some friendly competition, especially while gathered around the Yule log! We have created a Christmas themed trivia game, complete with answers, which will have your guests debating all there is to know about December 25.
The game is 25 questions long, all Christmas themed. You can separate your guests into two groups, or multiple groups depending on how large your party is. In addition the first team to answer the questions, and get the most right wins! Purchase some extra stocking stuffers, maybe candy, cookies, or smaller items, this year as winner gifts and make sure each winner on the team gets one! Check out the full 25 trivia questions below, and get ready to play!
Q: In "Frosty the Snowman," who brought Frosty back to life? A: Santa Claus
Q: In "How the Grinch Stole Christmas," what biological shortcoming made the Grinch so mean? A: His heart was two sizes too small
Q: What is the biggest selling Christmas single of all time? A: "White Christmas"
Q: What was Scrooge's first name? A: Ebenezer
Q: Who said "God Bless Us, Every One" in "A Christmas Carol?" A: Tiny Tim
Q: In "The Night Before Christmas" I sprang from my bed to see what? A: What was the matter?
Q: Name the three reindeer whose names begin with a "D"? A: Dasher, Donder, and Dancer
Q: In the song "Grandma Got Run ov:er by a Reindeer" what did Grandma go to get? A: Her medication
Q: What was the first gift my true love sent on the sixth day of Christmas? A: Six geese a-laying
Q: In what city did "Miracle on 34th Street" take place? A: New York
Q: Who kept time with the Little Drummer Boy? A: The ox and the lamb
Q: In '"Twas The Night Before Christmas," where were the stockings hung? A: By the chimney
Q: What is the name of the little girl in "The Nutcracker?" A: Clara
Q: What is the last ghost called in "A Christmas Carol?" A: The Ghost of Christmas Yet to Come
Q: What color is the Grinch? A: Green
Q: In the movie "The Santa Clause," who starred as the substitute Santa Claus? A: Tim Allen
Q: What was Rudolph's punishment for his red nose? A: Could not play in reindeer games
Q: In "A Charlie Brown Christmas," who plays the dusty innkeeper in the Christmas play? A: Pigpen
Q: What did the traffic cop holler to Frosty? A: "Stop"
Q: What holiday drink contains sugar, milk, and eggs? A: Eggnog
Q: Name the two reindeer whose name begins with a "C"? A: Comet and Cupid
Q: What song is full of threats and warnings about Santa Claus? A: "Santa Claus Is Comin' to Town"
Q: Elvis Presley recorded what sad song in the fifties? A: "Blue Christmas"
Q: What song contains the line "Somebody waits for you, kiss her once for me"? A: "A Holly Jolly Christmas"
Q: What snack is often left out for Santa? A: Cookies
© 2023 Latin Times. All rights reserved. Do not reproduce without permission.