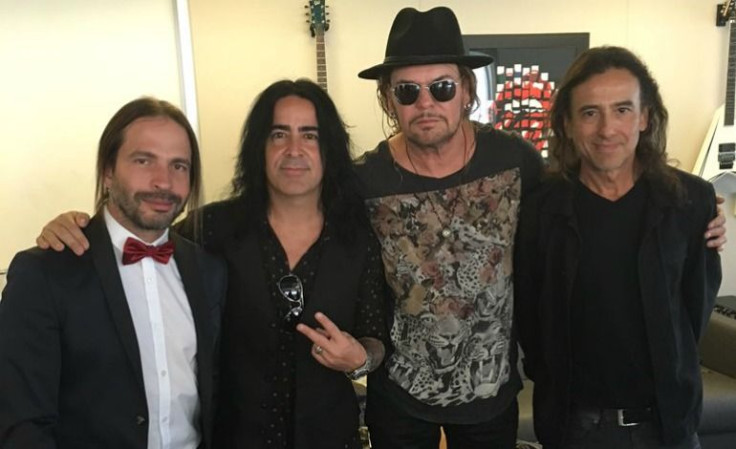 Looks like the White House is going to throw a really fun Cinco de Mayo fiesta, as the Mexican band Maná just announced this morning that they will be performing at the presidential residence next Thursday.
"Hey, what's up, this is Maná and guess what? We have been invited to the White House. Yes, you heard it. We are going to play there on Cinco de Mayo, with Mr. Obama and other guests, so we're really looking forward to it," band member Alex Rodríguez said. "Thank you so much for the invitation. Viva Mexico!"
Additionally, frontman Fher Olvera also told BuzzFeed News that this is something that he never saw coming. "Wow, if you had told me 25 years ago that one day the band Maná would play in the White House, I wouldn't have believed it," he explained. However, he does think that Mexican music and culture are "an integral part of the United States," and him and his band couldn't be happier to share it.
Earlier this year, Maná became the first Mexican rock band to be recognized with its own star on the Hollywood Walk of Fame. The band, along with Carlos Santana and America Ferrera, were present at a special unveiling ceremony held on February 10, in Los Angeles, California.
"You are incredibly deserving of this recognition," said the Honduran actress to the group. "Thank you for being what you are, not just in music, but in the world," she added, thanking them once more for singing about difficult issues that matter in the Latino community.
Having sold over 30 million albums, releasing 35 No.1 hits worldwide, and receiving many awards, Maná receives the 2,573 star on the walk of fame. February 10 was also declared "Maná Day" in the city. "We made it!," expressed Olvera at the ceremony. Maná later performed on "Jimmy Kimmel Live" where they announced their U.S. "Latino Power Tour" to kick off in the fall.
© 2023 Latin Times. All rights reserved. Do not reproduce without permission.