Kindness is the key to anyone's heart in today's world. Animals, in particular, deserve empathy because they cannot express themselves verbally and are frequently misunderstood. One such video, in which a man bathes a cobra snake without fear, is currently viral on social media.
While cobras are considered frightening creatures, and many people are afraid, this man showed no fear. His kindness has now won the hearts of netizens.
The snake probably found its way to the residential colony because it was hot and thirsty in this sweltering weather, DNA India said. While the rest of those in the territory fled after seeing the gigantic snake, a good man stepped forward to save him.
The man can be seen pouring a bucket with water and then dumping it on the cobra, bathing it in the footage that has gone viral on social media. To calm it down, he also gave it some water to drink.
A user named 'helicopter_yatra_' posted the footage to Instagram. The video has now received over 3.4 million likes, with hundreds of netizens thanking the man for his heartfelt act.
Many users left heart and love emojis in the post's comment area. "At least someone tried to understand the plight of the animal," wrote one user in Indian.
This isn't the first time a video showing a snake sipping from a bottle has gotten people's attention on social media. In another brief footage, a forest officer squatted in front of the snake with a plastic water bottle in his hand. He moves the bottle forward, carefully tipping it towards the cobra. The snake, clearly thirsty, swiftly swallows up the water.
"Love & water... Two best ingredients of life," wrote IFS Susanta Nanda while sharing the clip on Twitter.
Many Twitter users applauded the forest officer for his bravery and compassion in approaching a dangerous snake to help it, NDTV said.
Some users thought the film should have come with a warning that people shouldn't get too close to snakes unless they've been properly taught to manage them.
A thirsty king cobra found its way to Kaiga village in Karnataka in 2017. A wildlife rescue volunteer brought the snake some water, which it eagerly drank.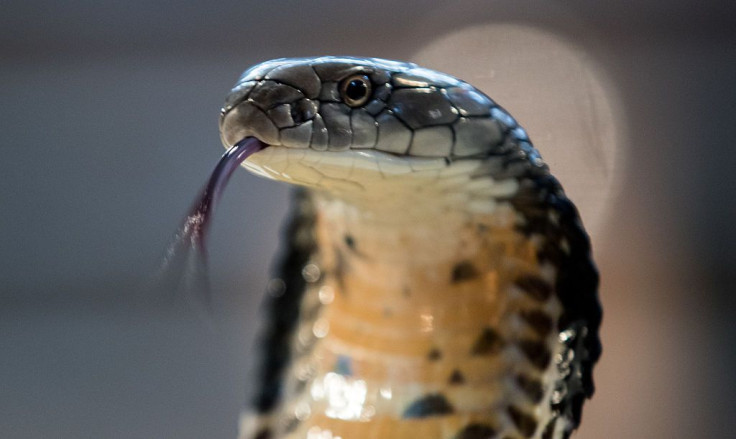 © 2023 Latin Times. All rights reserved. Do not reproduce without permission.