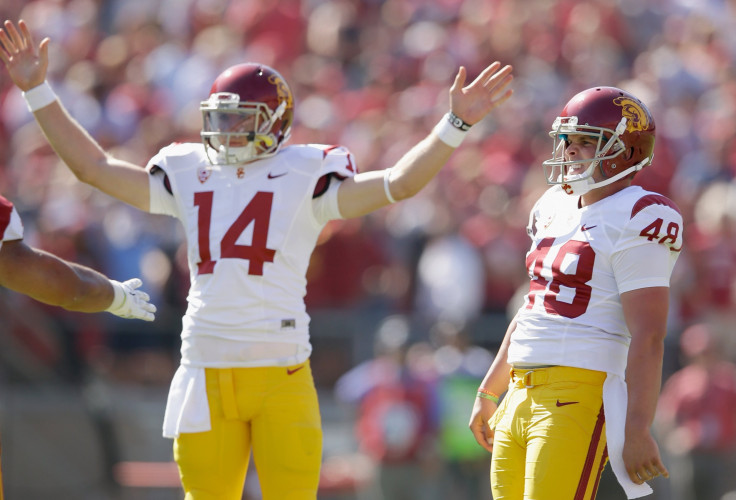 Oops, I did it again. Andre Heidari kicked another game winning field goal to beat the Stanford Cardinal on Saturday and No. 14 USC defeated the No. 13 Stanford 13-10 in Palo Alto.
Heidari's field goal was a career long and the second consecutive year he helped the Trojans defeat Stanford, this time in a hostile environment at "The Farm." The game was a defensive battle that came down to the trenches on both sides of the ball. The 23 total points scored by both teams shuddered in comparison to the 45 points and 52 points each team scored individually last week.
Stanford had their opportunities throughout the game, but USC's defense stayed tough, stopping Stanford on a 4th and inches in the 4th quarter and then blindsiding Stanford quarterback, Kevin Hogan with 19 seconds left to play, jarring the ball loose, which was recovered by USC to ice the game.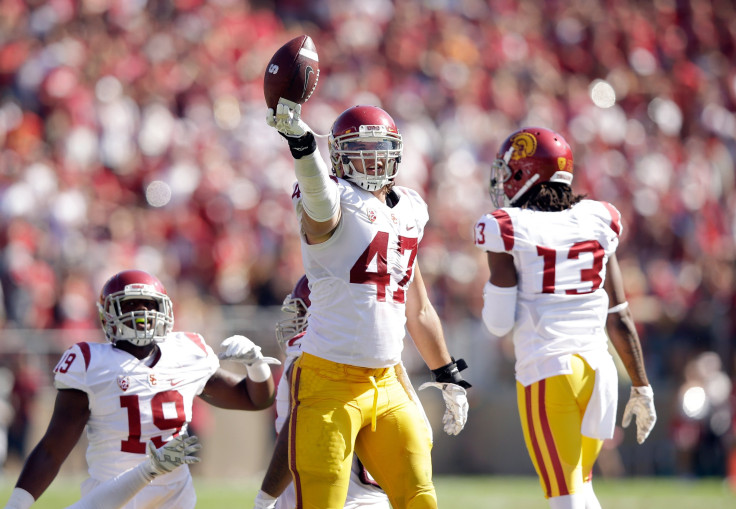 For new Trojans coach Steve Sarkisian, it was his first major victory since taking over the program. Stanford is the two-time defending Pac-12 champions but have now been tripped up by the Trojans for the second consecutive year.
Javorius "Buck" Allen had a career high 154 yards for the Trojans and appears to have distanced himself from all competitors as the sole feature running back for USC. All-American wideout, Nelson Agholor, also had a career-high nine receptions for 91 yards and recovered some huge first downs for the Trojans late in the game.
Stanford was the better team on paper as they outgained the Trojans 413 to 291, but it was the two key defensive stops by the Trojans that did the Cardinal in. USC snapped the Cardinal's 17 game home winning streak at the Farm, the longest winning streak in College Football.
Sarkisian had to make his biggest decision in his coaching career late in the 4th quarter, when the Trojans were faced with a fourth-and-five-from the Cardinal's 35-yard line. Sarkisian first brought out Cody Kessler and the USC offense and was going to go for it, but after calling a time out and discussing it with his team, he chose to send Andre Heidari out to attempt the 53 yarder.
The move worked, as Heidari nailed the kick through the uprights and immediately pumped his arm into the air as he ran towards the Trojans fans in the far corner of the stadium.
Stanford was uncharacteristically undisciplined on Saturday, as they committed seven penalties, as well as had a botched snap, a missed field goal and two turnovers.
© 2023 Latin Times. All rights reserved. Do not reproduce without permission.