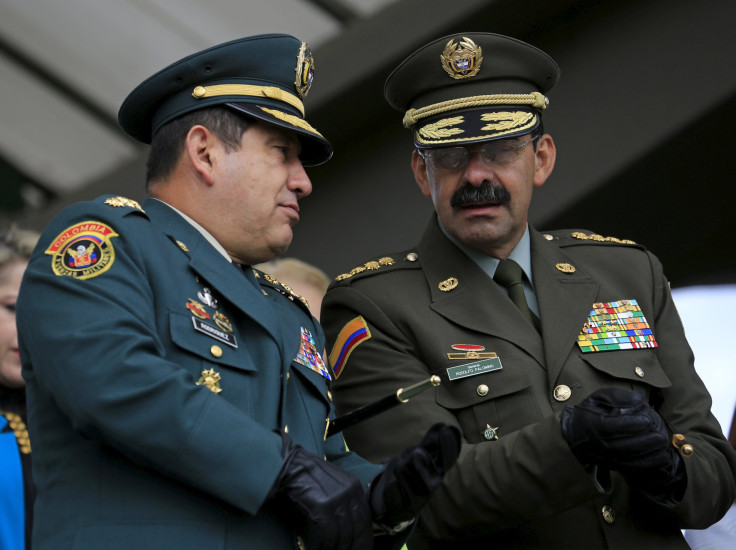 In 2008 "falsos positivos" (false positives) scandal rocked Colombia, from the military community who was implicated hundreds and possibly thousands of victims killed as extras in what has been theater of war for nearly 50 years. Trying to pad their body counts in the ongoing fight against leftist guerillas like the FARC and ELN, more than one Colombian military brigade intentionally killed civilians. They then documented the murder victims as guerrillas, add false "positives" to their reports. In at least one case, military officials paid middlemen $500 per head to deliver peasant laborers looking for work in order to dress them in military fatigues, arm them and execute them. In his 2009 report, U.N. Special Rapporteur Philip Alston said that while he could not "rule out the possibility that some of the falsos positivos were, in fact, guerillas [...] I have been provided with no sustained evidence to that effect by the Government."
"Evidence showing victims dressed in camouflage outfits which are neatly pressed, or wearing clean jungle boots which are four sizes too big for them, or lefthanders holding guns in their right hand, or men with a single shot through the back of their necks, further undermines the suggestion that these were guerillas killed in combat," Alston wrote.
False positives weren't the first human rights violations to be perpetrated in the decades long conflict, on either side. In his report, Alston gave examples of FARC and ELN atrocities as well. A few years later, the FARC would swear off a long tradition of kidnapping and ransom, which had terrorized the country. Paramilitary organizations funded by the Colombian government had long been accused of indiscriminate violence against perceived threats like union leaders. Yet false positives took human rights abuses to a whole new level with the rounding up noncombatants -- often petty criminals, drug users or homeless people -- and killing them.
"What makes these crimes unique is that they were not about eliminating political opponents or supposed guerrilla sympathizers; they were basically about killing civilians just to boost body count stats in the war on guerrillas," José Miguel Vivanco, Americas director for Human Rights Watch, told the Washington Post.
In the wake of the scandal a top commander resigned, over a dozen officers were fired and as many as 800 lower-level soldiers were prosecuted. More arrests were confirmed this month. Hundreds of false positive victims were confirmed, and the government continues to investigate nearly 3,000 suspicious deaths. According the military officials, justice is done or nearly there. Any suggestion that top commanders were responsible for the false positives is a leftists ploy, argued General Jaime Ruiz, spokesman for Acore, an association of retired generals.
"The idea of trying to blame the generals is a strategy that is being skilfully used by the extreme left and some NGOs in a legal war against the military," he told the Guardian.
Human Rights Group Charges Top Brass With Negligence, Retaliation
A new report from Human Rights Watch (HRW), released today, argues that the military dodged justice as much as it possibly could, and that many of the guilty got away. The report comes as Colombia negotiates with FARC rebels for the end to the country's civil war. Both sides have already indicated that a final agreement might include total or partial amnesty for military leaders on both sides of the conflict. The HRW report presents evidence that the Colombian military's top brass knew of the false positives or should have known. It argues that military commanders pressured officers to produce body counts, often incentivising "positive" numbers with bonuses and vacation time. When lower-ranking soldiers informed their superiors of the false positive schemes they were often retaliated against, the report alledges.
"On October 27, 2014, Nixón de Jesús Cárcamo was murdered in the 11th Brigade's military detention center, where he was being held on false positive charges. Cárcamo had been providing information to prosecutors about his superiors' alleged role in the killings," the HRW report states. "Eleven days prior to his death, he told them that 'there are rumors that my life is in danger because I'm cooperating with the justice system…. If anything happens to me I declare responsible the people who I'm accusing in these cases.'"
The HRW report is a catalogue of alleged injustice. It claims evidence that one whistleblower's wife was raped in retaliation for his testimonies in a false positive case. In chronicles the death threats and administrative sanctions received by others, allegedly for helping convict officers. Since advanced copies of the report were released, Colombian officials have admitted that top commanders of offending brigades were often not even investigated for wrongdoing.
U.S. Military Aid
As the false positives scandal continues to unravel, the elephant in the room is the U.S. government, whose military aid supported the atrocities, if only indirectly. U.S. aid to Colombia in 2006 -- the midst of the scandal -- topped $700 million dollars, about 80 percent of which was military aid, according to Amnesty International, another human rights group. Often dispersed under the guise of the War on drugs, Colombia received around $8 billion in aid over a period of 10 years. Military training in the U.S. has also been common. One commander of a unit that murdered at least 72 civilians received training in the U.S. and Europe. Before being arrested earlier this month, he received over 30 medals, commendations for stellar performance and high kill rates in his unit.
HRW and other human rights groups argue that the U.S. should cut its aid, or at least make it conditional on meaningful reform. For some, including U.S. Senator Patrick Leahy (D-Vermont), that argument is gaining traction. In the past, he's sponsored legislation to make aid conditional on human rights reform. He told the Guardian that he was troubled by the HRW report.
"As we provided billions of dollars in aid to the Colombian army over many years, its troops systematically executed civilians. Worse yet, the officers who were in charge have escaped justice, and some remain in senior positions of authority," he told The Guardian in an email.
© 2023 Latin Times. All rights reserved. Do not reproduce without permission.