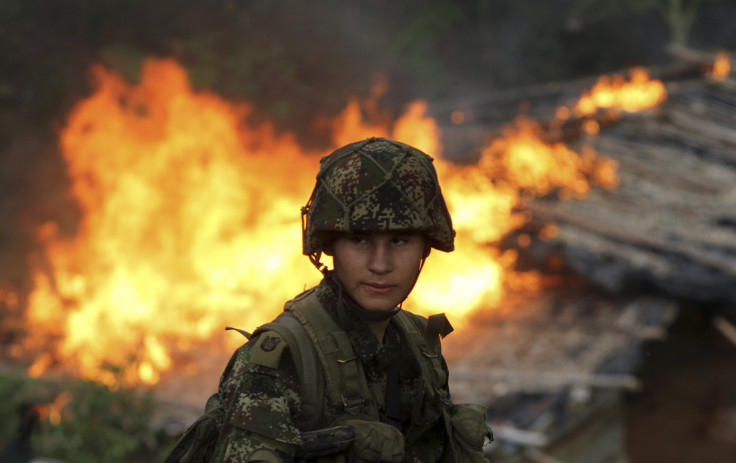 Ten Colombian soldiers were killed and as many as 21 injured in a firefight with the Marxist FARC rebels, according to Caracol Radio. The attack could be a step backward in the ongoing peace talks between FARC and the government. The fighting occurred Wednesday morning the northwestern part State of Cuaca, about 50 miles from the Cali, Colombia's third largest city. The fighting occurred Wednesday morning in the state of Cuaca, about 50 miles from the Cali, Colombia's third largest city. Injured soldiers were transferred to army hospitals by helicopter. Colombian President Juan Manuel Santos will travel to the conflict zone later today.
"I lament the death of the soldiers in Cuaca. This is precisely the war that we need to end," Santos said, on his Twitter account.
A condemnation of the attack from the Temístocles Ortega Narváez, Cuaca's governor, indicated that it was a deliberate raid on sleeping troops. Colombia and the FARC (Revolutionary Armed Forces of Colombia) are currently negotiating a long-term peace in Cuba. The recent attack threatens to shatter months of progress that had led to unilateral ceasefires on both sides of the conflict. However, Colombian oppositions leaders have charged the FARC with other violations as early as yesterday, as well as ongoing extortion, drug trafficking and child soldier recruitment. Colombia has been fighting the rebels for almost 50 years.
Representatives of opposition took to the radio on Wednesday to calling on the government to resume aerial attacks on FARC strongholds. Centro Democratico leader and former president Álvaro Uribe decried the attacks, as well as Santos' comments with his own Twitter retort.
"Santos, don't fool us any more, don't justify this murder of our soldiers with the story of 'war that we need to end,'" Uribe said.
It's possible that the FARC attack was carried out by a "rogue" unit, and was not ordered by the leadership. Caracol Radio reports that there has been some internal division within the FARC, with some elements of the resistance objecting to peace talks.
"If it was a rogue unit, the message was meant as much for the guerrilla negotiators in Havana as it was for the government," Adam Isacson, a Colombia specialist at the Washington Office on Latin America, told Bloomberg Business.
© 2023 Latin Times. All rights reserved. Do not reproduce without permission.