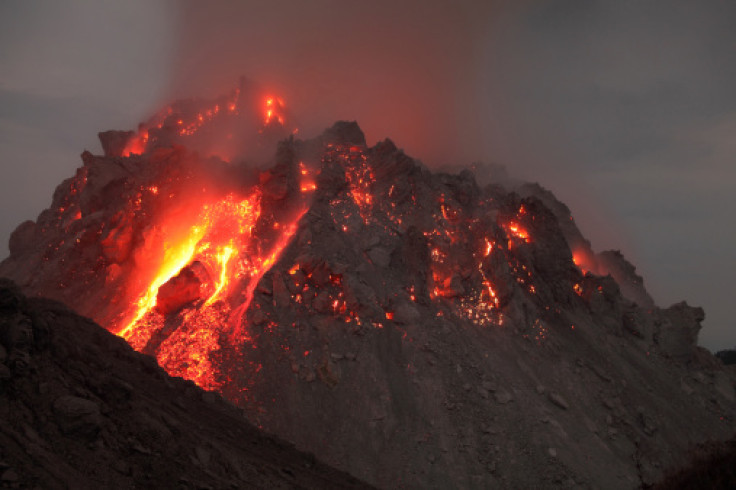 As the wind shifts, so does concern over the Popocatepetl volcano. Residents to the west of the mountain watched the gas and ash plume emerge from its crater nonchalantly on Tuesday while those to the east of the mountain scoured streets and refused to take off their masks.
The 17,797-foot (5,425-meter) mountain colloquially referred to as "El Popo," which is located only 45 miles (about 70 kilometers) southeast of Mexico City, has been bellowing for days, covering Pueblan villages and crops in ultra-fine ash.
"When nothing is happening, we worry," said a cheerful Viridiana Alba, who has been selling flowers in Amecameca's central plaza for 25 years. "El Popo," as the volcano is affectionately known, rises directly across from her stand.
"We know that right now it's releasing smoke, that's freeing the energy that it holds," she said.
When the wind blew her way last weekend, Ash still rests on the awning protecting her plants. The earthquakes from the volcano shook the town, but as long as the ash is still light, she thinks it will benefit her plants.
Large amounts of ash have been carried east by winds over the states of Puebla and Veracruz, eventually reaching the Bay of Campeche and beyond.
In its assessment released on Tuesday, Mexico's National Center for Disaster Prevention stated that tiny lava domes continued to develop inside the crater and were subsequently being eliminated by minor and moderate explosions.
It warned locals in the vicinity of the volcano that these explosions would probably occur throughout the next days and weeks, AP News reported.
Three days ago, "my house shook almost all night, it was amazing," said Arturo Benítez, a former local official. "The sound of the volcano was strong, it resembled a lit boiler and a lot of ash fell, but then suddenly on this side it settled down."
Authorities upgraded the warning level on Sunday, although they insisted there was no immediate risk to the public.
Although no evacuations have been required, officials have been building shelters, driving evacuation routes, and conducting mock exercises.
On Tuesday, a few dozen civil defense vehicles and troops closed Cortes Pass, a narrow road that spans a saddle between Popocatepetl and the dormant Iztaccihuatl volcano.
The majority of the tourist-attracting cabins were empty, and the route was blocked to vehicular traffic.
Police in Amecameca distributed leaflets with advice on how to be ready in case the volcano's activity escalated.
The pamphlet recommended having important documents at hand, a full gas tank, masks and towels to dampen if residents had to leave in a hurry.
Most residents already know, especially those who remember an eruption in 1997 that "darkened the sky, thundered ... and a muddy rain fell," Benítez said.
"The pyroclastic cloud came to Amecameca, and it was chaos, everyone wanted to leave then, and it was tremendous," he said.
Since coming out of a long period of hibernation in 1994, Popocatepetl has only ever caused a red alert on the government's stoplight-style system once, in 2000. The volcano last erupted significantly more than a thousand years ago.
Locals have not yet noticed much activity this time, although the localized effects might be felt by people living on one side of the volcano while everything is normal on the other.
Bentez said he believed recent coverage of the volcano had been a little bit overdone. He had previously worked as a photographer for federal officials monitoring the volcano.
"It's not that bad, except if they know something we don't know, because the activity has lessened."
President Andrés Manuel López Obrador downplayed the situation Tuesday.
"We are going to be watching and if there's anything we're going to inform," he said.
"But we feel like there isn't going to be a problem."
© 2023 Latin Times. All rights reserved. Do not reproduce without permission.