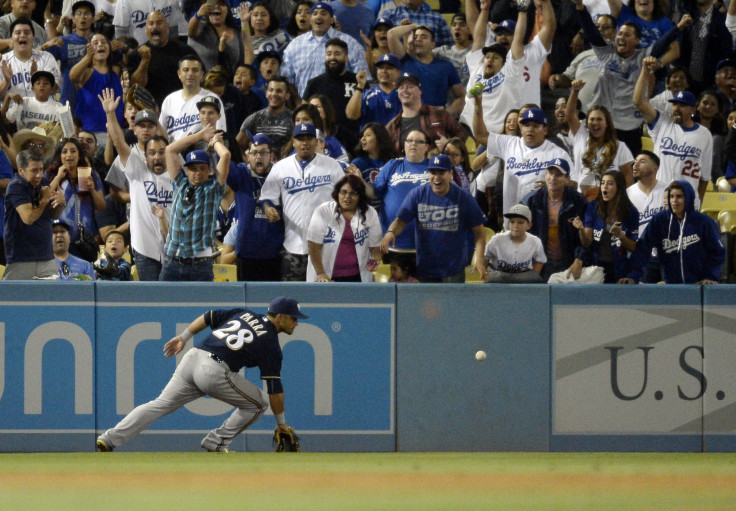 LOS ANGELES – Hernan Perez committed an error on a two-out ground ball to third in the seventh inning and the Dodgers capitalized with three-consecutive hits to comeback and beat the Milwaukee Brewers 3-2 on Friday at Dodger Stadium.
Andre Ethier hit a clutch, pinch-hit single with two-outs that tied the game at 2-2 and Joc Pederson followed with a double into the left field corner that scored Ethier all the way from first.
"In those moments I'm able to see the ball more slow, and focus on that situation," Ethier said. "I knew I had only two outcomes: either I get a hit or I get out and the inning's over."
Brewers' starter Jimmy Nelson took a no-hitter into the sixth inning before allowing back-to-back singles to Pederson and Howie Kendrick. Nelson took the loss despite not allowing an earned run in his seven innings of work.
Because Perez's error kept the inning alive when it should have ended, the three hits that followed off Nelson, did not count as earned runs on his record.
"Sometimes that's how big innings start, with an error," Ethier added. "We found a chink in his armor and were able to capitalize there."
Mike Bolsinger got the start for the Boys in Blue, but has struggled in his last six outings, posting a 4.55 ERA with three losses over that span. Bolsinger didn't get the win on Friday, but pitched well in six strong innings, allowing just two runs on four hits in the no-decision.
Bolsinger's six innings was his longest outing in over a month as he last pitched into the sixth on June 8th against the Arizona Diamondbacks.
"It's big," Bolsinger said about going six innings. "This is definitely the way I wanted to go into the All-Star break. I haven't been able to go deep into games, and today my goal was to keep the team in the game."
The only runs against Bolsinger came in the fifth inning, after a pair of wild pitches. With runners on first and second, Bolsinger bounced a curveball that got away from Yasmani Grandal and advanced the runners. Two batters later, another wild pitch allowed Scooter Gennett to score from third and the Brewers had a 2-0 lead.
Chin-Hui Tsao made his Dodgers debut in dramatic fashion picking up his first victory in the majors in 10 years. Tsao pitched a scoreless seventh, brushing off eight years of rust as the Taiwanese pitcher hadn't taken the mound in an MLB game since 2007.
"It feels like I'm dreaming right now," Tsao said through a translator after the game. "I don't quite know how to put my emotions into words. I'm very lucky to get this win today and I want to thank God and my teammates."
Kenley Jansen pitched a perfect ninth for his fifteenth save of the season.
© 2023 Latin Times. All rights reserved. Do not reproduce without permission.