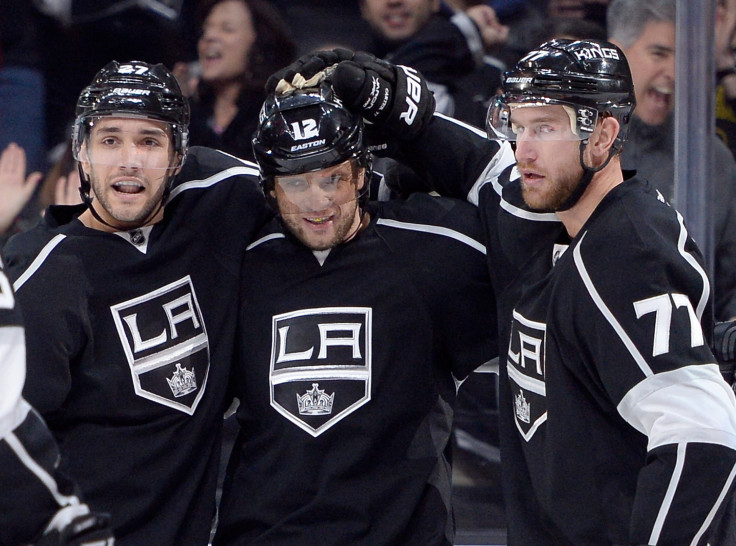 LOS ANGELES – Alec Martinez wishes his team played the Arizona Coyotes every day. The Kings defenseman scored the game-winning goal in the third period on Saturday and Los Angeles defeated Arizona 4-2. Martinez has now scored in consecutive games against the Coyotes.
Marian Gaborik and Jeff Carter stayed hot for the Kings as both players found the net. For Gaborik, it was his sixth goal in four games and Carter has now scored in back-to-back games.
"They're getting going," said Kings coach Darryl Sutter about the trio of Gaborik, Carter and Anze Kopitar. "They're both obviously different types of players; They've all had their ups and downs this year and you expect them to carry more of an offensive load. They're doing a little bit more now."
Martin Hanzal and Kyle Chipchura scored for Arizona who had a 2-1 lead midway though the second period. The Coyotes went cold in the third period and the Kings capitalized with two goals to hand Arizona their sixth consecutive loss in regulation.
"It stings a bit with the way that one finished off," said Coytoes goalie Devan Dubnyk. "I thought we had a chance to win a hockey game in a tough building, but we had a frustrating third period."
The game was decided in the third period for both teams. Each team had a power play opportunity. The Kings converted on theirs thanks to Martinez and the Coyotes didn't attempt a single shot thanks to the Kings incredible penalty kill.
"The penalty kill came out huge today," added Kopitar.
Jonathan Quick had a pedestrian afternoon, stopping 15 shots and allowing two goals. His counterpart, Devan Dubnyk made 31 saves, but was beaten low to his glove side by Martinez for the go-ahead goal.
"My take is Dubnyk was outstanding," said Coyotes coach Dave Tippett. "We got outcompeted on pucks. We got fortunate with a couple bounces to get ahead. In the end he took three penalties in the offensive zone that cost us. Got outcompeted in too many battles, gave up too many chances and didn't win."
The Coyotes are now in second to last in the NHL's Western conference and only have one win in regulation in their last 14 games. They've lost six of their last seven with their only victory coming in overtime against Edmonton, currently the worst team in the NHL with 20 points.
The game was the three-year anniversary of the day Darryl Sutter was hired midway through the Kings 2012 Stanley Cup Championship season. With the victory today, Sutter passed Tom Webster for the fifth most wins (115) by a coach in Kings history.
Game Notes:
Los Angeles defenseman Robyn Regehr, was placed on IR before the game with an upper body injury against the St. Louis Blues on Thursday. Jamie McBain started in his place for the first time since November 29th. The Kings are now tied with the most points (27) and the most wins (13) through 18 home games in franchise history.
© 2023 Latin Times. All rights reserved. Do not reproduce without permission.