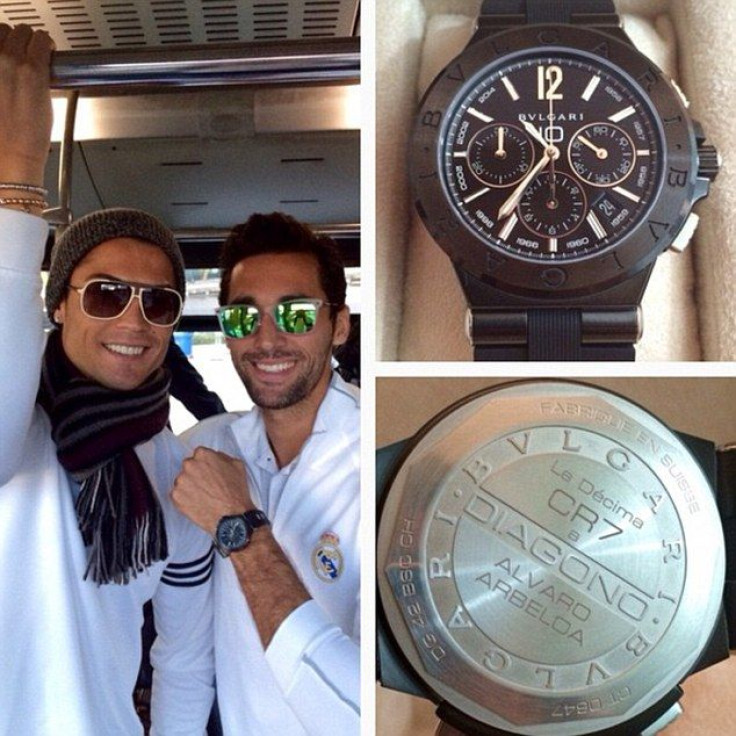 Portuguese superstar, Cristiano Ronaldo, is in the Christmas spirit. A few weeks ago Ronaldo took to instagram to share a photo of him and his son Cristiano Ronaldo Jr. decorating the Christmas tree and posing with Santa Claus. He sent a message to fans that "Christmas has arrived," but it wasn't until recently that the Real Madrid star played the role of Santa Claus for his teammates.
Ronaldo wanted to thank his teammates for their tremendous play this season in route to their current 22-game winning streak, so the forward gave each of his Los Blancos teammates $10,000 Bvlgari watches this year. Ronaldo gave each one of his teammates the black Bvlgari watches with a personal engravement on the back of each one. In addition to his signature, "CR7", Ronaldo had the words "La Decima" and the name of each player engraved on the back to celebrate Real Madrid's 10th European Cup.
Ronaldo gave the gifts to his teammates before their La Liga match against Almeria last Friday night. We were tipped off to the generous ways of the reigning FIFA Ballon d'Or winner when teammate Alvaro Arbeloa posted a picture of himself with Ronaldo holding the watch. Ronaldo may have been in the giving mood this holiday season, but he should be on the receiving end of the generosity of FIFA come January 12th when he will most likely be the recipient of the 2014 FIFA Ballon d'Or.
© 2023 Latin Times. All rights reserved. Do not reproduce without permission.