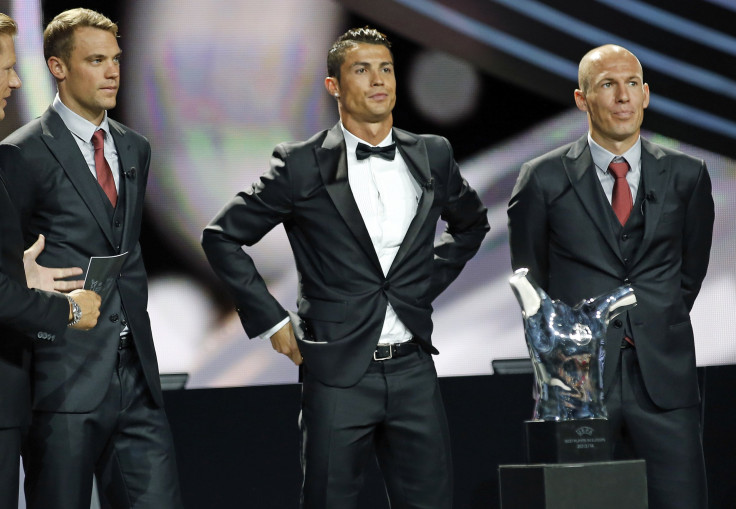 Add another trophy to the museum in Madeira. Real Madrid's Cristiano Ronaldo was named the UEFA 2013-2014 Best Player in Europe on Thursday night in Monaco. It is the first time Ronaldo has won the award which was created in 2011 after finishing third for three straight years. The Portuguese striker beat out goalkeeper Manuel Neuer and Arjen Robben from Bayern Munich to win the coveted prize.
The award is a European Union association award given just before the next UEFA Champions League season begins in order to honor the best soccer player in Europe in the previous season. The award competes with FIFA's Balloon d'Or which Ronaldo also won last season. Past recipients of the award are Argentina's Lionel Messi, Spain's Andres Iniesta and France's Franck Ribery.
Ronald scored a Champions League record 17 goals last season, sealed with a penalty kick goal in extra time in Real's Championship victory over rival Atletico Madrid 4-1. "I'm really happy so I must say thanks to my team-mates because without the team, individual awards would not be possible. The Portuguese striker said.
Real Madrid won the UEFA Champions League for a record 10th time, known around the world as "La Decima", an honor that Los Blancos can say they are the only one to have claimed.
"Winning La Decima was amazing, something that Madrid had looked to do for many years. As Madrid players we feel as though you have to win the Champions League. It was a fantastic season – we won the Champions League, the Spanish Cup and the UEFA Super Cup," Ronaldo added.
Ronaldo opened up the CR7 museum in his hometown of Madeira nine months ago and the shrine boasts more than 130 trophies to the soccer star. With the newest award won by the Portugal star on Thursday, you have to believe it will be on display in the museum soon. When asked about the award going into his museum in Madeira, Roanldo answered, "Don't worry, I have room for more trophies."Tell us if you think Ronaldo deserved to win the award, or with Lionel Messi injured last season, if it is just another vanity trophy to add to the Museum?
© 2023 Latin Times. All rights reserved. Do not reproduce without permission.