Officials arrested hundreds of Cubans as residents went to the streets in Havana and at least 14 other towns throughout the Communist island in a wave of protests.
Cuba wanted an end to the dictatorship's 62-year reign, as well as food and COVID-19 vaccinations.
The demonstrations are crucial because opponents risk severe retaliation for their opposition.
"We are not afraid! We are not afraid!" people shouted as they marched through the streets on Sunday, videos posted on social media showed. "Freedom! Freedom!"
President Miguel Dáz-Canel has urged his supporters to "fight" the demonstrators.
"Revolutionaries to the street," he said per The Washington Post, asking government supporters to rally support and take back control of the streets. "The order for combat has been given," he said.
Analysts believe the protests are uncommon in a country where dissidents are closely monitored by the police.
The President, according to CNN, blamed the protests on the United States, which he claims is trying to economically starve Cuba and cause a social explosion.
After Ral Castro's retirement in 2018, Mr. Daz-Canel was elected. Mr. Daz-Canel also became the leader of Cuba's ruling Communist Party earlier this year. Daz-Canel, a longstanding party apparatchik, is said by many Cubans to lack the aura of the revolutionary generation of leaders who rose to power alongside brothers Fidel and Raul Castro.
According to Cuban Foreign Minister Bruno Rodrguez, Daz-Canel made an unplanned visit to San Antonio de los Baos. Rodrguez posted a video on Twitter showing pro-government demonstrators marching in Havana behind a Cuban flag, declaring that the streets belong to Fidel Castro, the late Cuban leader.
Demonstrators demonstrated tenacity. Some gathered in front of Communist Party headquarters, screaming, "Cuba isn't yours!"
Police did not disperse or arrest the peaceful protesters initially. Still, videos posted later on Sunday showed officers wrestling down a demonstrator. Protesters threw rocks at a police cruiser as it sped away in another video. A third image depicted two wrecked police cars in Havana street.
Relations between the United States and Cuba are at an all-time low, CNN said. The Trump administration imposed some of the strongest economic sanctions on Cuba in decades, and the Biden administration is hesitant to lift them, another CNN report added.
The already struggling Cuban economy has been severely harmed by the pandemic since tourism and good imports have plummeted.
Cuban health officials reported a single-day surge in new COVID-19 cases and deaths that set a new record.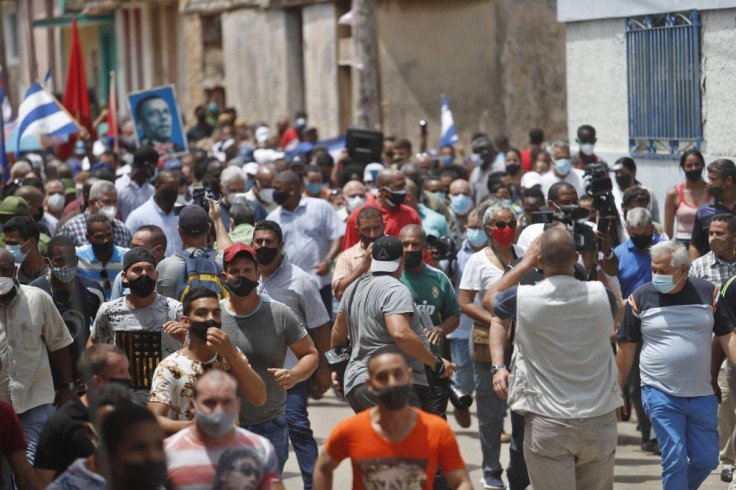 © 2023 Latin Times. All rights reserved. Do not reproduce without permission.