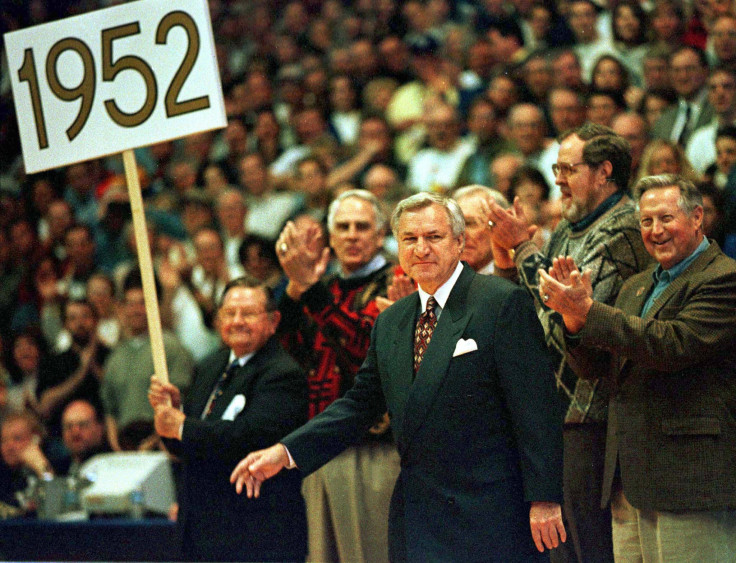 If the game of basketball was a royal family, the hierarchy just lost its King. Dean Smith, the Hall of Fame North Carolina coach who led the Tar Heels to 11 Final Four appearances and two national titles has died. People across the country are mourning the loss of the hardwood legend. Hundreds of Smith fans flocked to the arena that bears his name in Chapel Hill placing notes, bouquets of flowers, and lighting candles for their fallen leader.
One of those fans is the current President of the United States, Barack Obama. Obama has always mentioned and quoted Smith in his speeches and frank talks about leadership. On Sunday, Obama released a statement about Smith and his role in the sport of Basketball and some of the game's biggest stars.
"Coach Smith showed us something that I've seen again and again on the court – that basketball can tell us a lot more about who you are than a jump shot alone ever could. He graduated more than 96 percent of his players and taught his teams to point to the teammate who passed them the ball after a basket. He pushed forward the Civil Rights movement, recruiting the first black scholarship athlete to North Carolina and helping to integrate a restaurant and a neighborhood in Chapel Hill. He went to 11 Final Fours, won two national titles, and reared a generation of players who went on to even better things elsewhere, including a young man named Michael Jordan – and all of us from Chicago are thankful for that."
Join us in remembering the great Dean Edwards Smith and the imprint he had on the game of basketball and the lives of its greatest figureheads as we look back at 15 of some of the greatest and most poignant words spoken by the man who helped revolutionize the game of basketball.
"There is a point in every contest when sitting on the sidelines is not an option."
"If you make every game a life and death proposition, you're going to have problems. For one thing, you'll be dead a lot."
"A leader's job is to develop committed followers. Bad leaders destroy their followers' sense of commitment."
"What to do with a mistake--recognize it, admit it, learn from it, forget it."
"Good people are happy when something good happens to someone else."
"The most important thing is team morale."
"Always have your players go and pick-up the guy who draws the charge."
"Everyone on the bench stands for the man coming out of the game."
"Over coaching is the worst thing you can do to a player."
"I've always believed in quickness over strength and size."
"The key statistic is still to get to the foul line."
"The coach's job is to be part servant in helping each player reach his goals within the team concept."
"Basketball is a team game. But that doesn't mean all five players should have the same amount of shots."
"The most important thing in good leadership is truly caring."
"A lion never roars after a kill. "
© 2023 Latin Times. All rights reserved. Do not reproduce without permission.