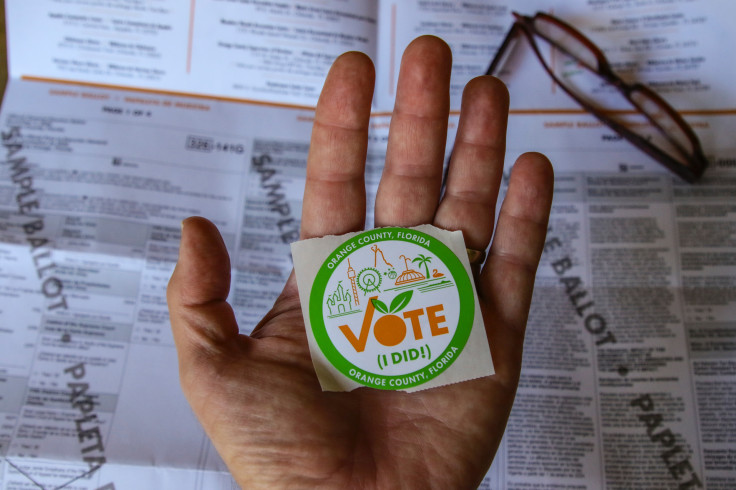 Florida is considered one of the swing states that usually plays a decisive role in U.S. elections, and its growing Hispanic population is making the Latino vote more important to candidates at election time, according to a civil rights advocate.
"The Latino vote will be influential nationwide as the number of eligible voters has increased over the past five years, said Clarissa Martinez, VP of the Latino voting initiative, UnidosUS. According to Martinez, Florida is one of the states where the Latino vote is key.
The state's demographic growth in recent years has been meteoric as it gained almost 700,000 new inhabitants from 2020 to 2022, reaching 22.2 million --27.1% Hispanic (per the Census Bureau).
This demographic data goes hand in hand with a diversification of the Hispanics' political tendencies, as evidenced by the recent emergence of new figures in local politics, most of them women.
Anna Paulina Luna (R) is the state's only congresswoman of Mexican descent in the House of Representatives and was recently joined by Debbie Mucarsel-Powell, who is of Ecuadorian descent.
Mucarsel-Powell held the House last term and is now taking another step forward by entering the Senate race against incumbent Republican Senator Rick Scott.
Last week, shortly after announcing her candidacy, she headlined a political rally at the iconic Cuban Memorial in Tamiami Park in the heart of Miami. She was joined by her running mate, Phil Ehr, for the 28th District, which stretches from South Miami-Dade County to the Keys and where more than half the population is Hispanic.
Florida's 28th District has historically been considered a key battleground for both parties. Mucarsel-Powell unseated Hispanic Republican Carlos Curbelo for the seat in 2018, before losing to Cuban-American Republican Carlos Gimenez by a narrow 27-point margin.
Mucarsel-Powell, whose father was killed in Ecuador, is pro-gun control. At Congress, she served on the Judiciary Subcommittee on Crime, Terrorism, and Homeland Security and was Vice Chair of the Gun Violence Prevention Task Force, where she led the effort to pass the first gun safety legislation. During the event in Tamiami Park, she and Ehr criticized Gimenez for his "lack of leadership in Congress" and blamed him for contributing to the chaos in Washington, the prolonged fight for control of Congress and the eventual government shutdown.
Mucarsel-Powell has already received the endorsement of more than 10 of the state's congressmen and another Florida Latino leader, Colombian-born Democrat Annette Taddeo, who also previously ran unsuccessfully for the House and is now a state senator.
"Florida needs a transformational candidate to take back this state for working families, and Debbie Mucarsel-Powell is that candidate. "Whether it's providing immediate economic relief to small businesses or working to lower the cost of health care, I've seen her work tirelessly for Miami families", said Taddeo to Florida Politics.
Taddeo's name has previously been floated by Democrats as a possible contender for the governorship, which is currently held by Republican Ron DeSantis, a GOP presidential hopeful. If DeSantis wins, the governorship would go to another Latina, Lieutenant Governor Jeannette Nuñez.
Another Democrat challenging a Republican is former Gainesville City Commissioner David Arreola, who is seeking to unseat Republican Chuck Clemons in Florida's 22nd Congressional District.
Although local Latino politics have traditionally been dominated by the influential, mostly Republican Cuban exile group, the growth of other communities such as Puerto Ricans and South Americans may influence a change in the state's political landscape.
Right now, Florida's Latino politicians include Republican Senator Marco Rubio, who has even thrown his name into the 2016 GOP presidential primary, and four Hispanic Cuban-American congressmen/women, Mario Diaz-Balart, Maria Elvira Salazar, Carlos Jimenez, and Mexican-American Anna Paulina Luna.
© 2023 Latin Times. All rights reserved. Do not reproduce without permission.