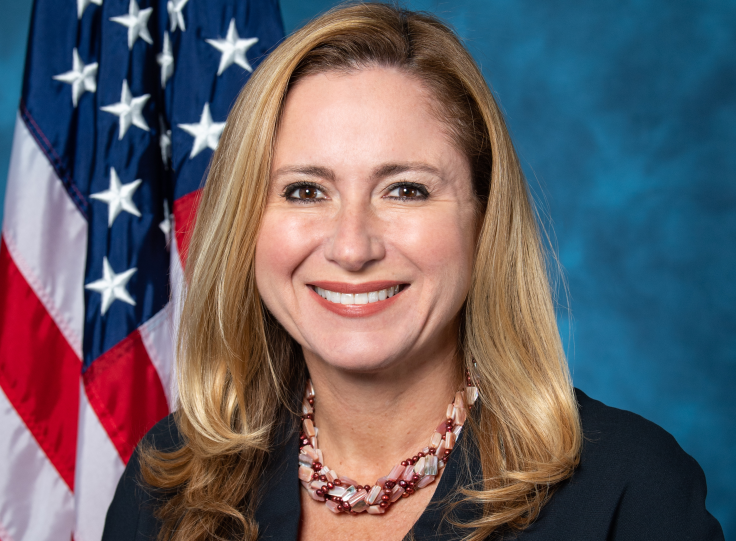 Ecuadorian-born former Florida Democratic Congresswoman Debbie Mucarsel-Powell, 52 joined the group of political leaders calling for the resignation of Senate Bob Menéndez over a recent Manhattan court ruling. She made history as the first South American immigrant elected to the House of Representatives.
Mucarsel-Powell, the former representative of the Sunshine State from 2019 to 2021, representing South Florida's 26th Congressional District, lost her 2020 re-election bid by 3 points to former Miami-Dade County Mayor Carlos Giménez.
Now she wants to go further, and recently filed for the Florida Senate seat held by incumbent Republican Rick Scott, a former governor and multimillionaire who has won three statewide elections.
But according to pundits in Washington DC, it will be an uphill battle for her because before she faces Scott, she will have to beat off several challengers in a party primary, like Rep. Alan Grayson and veteran Phil Her.
Mucarsel-Powell raised nearly $7 million for her unsuccessful House re-election campaign during the 2020 cycle; she had just $11,000 in her campaign account at the end of 2020, according to Federal Election Commission filings.
Meanwhile, her opponent, Scott, has loaned his 2022 campaign $4 million. He had $2.9 million in his account at the end of June.
Paradoxically, Mucarsel-Powell, who previously represented a key South Florida House district stretching from southern Miami-Dade County to Key West, received a $2,500 contribution from Menéndez's leadership PAC for her 2020 re-election bid, according to Florida newspaper The Miami Herald.
Mucarsel, who is trying to reach out to Latino voters, launched his campaign through social networks by appealing to the issues that matter most to them.
"I am an immigrant, a Latina, and a mother. I am not afraid to run against anyone who will not put Florida first. That message is for you, Rick Scott. That's why I'm running for Senate," she announced in a message on the X network.
With a great sense of opportunity, she addressed one of the most serious issues facing Florida's Latino community: the loss of purchasing power to meet basic needs such as food and housing. She cited property insurance as an example of rising costs. She said more can be done at the federal level to address affordable health care and housing.
In a campaign video, the former congresswoman defended Medicare -- health insurance for seniors -- and gun control.
She uses herself as an example of a victim of this kind of violence, as her father was murdered in her home state.
She drives her campaign by opposing her state's governor, Ron DeSantis, especially on the issues of gun control and abortion.
He strongly criticizes his opponent Scott, for aligning himself with the most extreme sector of the Republican Party and the House of Representatives, the Freedom Caucus.
Scott's team, in turn, called her a "failed congressional candidate and a radical socialist who voted with Nancy Pelosi all the time during her tenure in at the hill.
Her opponents have made accusations linking her husband to Ukrainian oligarch Igor Kolomoisky, who is accused of corruption in his country.
According to FOX News, National Republican Senatorial Committee spokesman Philip Letsou told Fox News Digital in a statement that "Floridians deserve better than corrupt politicians like socialist Mucarsel-Powell, whose family fortune was bankrolled by a corrupt warlord who allegedly engaged in bribery, embezzlement and contract killings.
These allegations, which were public knowledge at the time of her campaign for the House of Representatives, were denied by her spokesman. "The absurdity of Debbie being attacked over an indirect shareholding in her husband's former employer, a job he no longer even holds, is exactly why people are tired of politics."
Press inquiries have been disabled on the official debbieforflorida.com website.
The Mucarsel-Powell Senate campaign has released its first Spanish-language ad of the cycle, targeting Floridians celebrating National Hispanic Heritage Month, "Nuestra Comunidad," and running on digital platforms. It highlights how Mucarsel-Powell immigrated to America in search of the American Dream, like many in the Sunshine State.
She was also a Florida adviser and spokeswoman for the gun control organization led by former Democratic Congresswoman Gabby Giffords.
Mucarsel came to the United States at age 14 from the city of Guayaquil, where she worked for minimum wage at a doughnut chain.
© 2023 Latin Times. All rights reserved. Do not reproduce without permission.