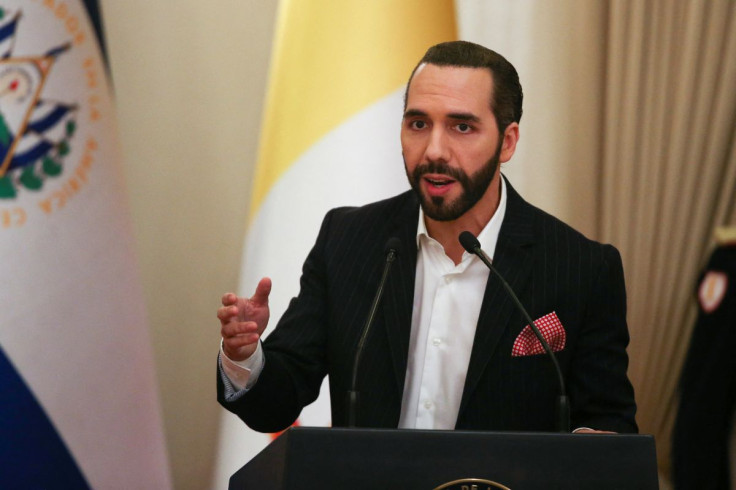 In the capital of El Salvador, San Salvador, there are many vacant homes in the once gang-dominated neighborhood of La Campanera.
Some of the homes were referred to as "casas destroyer" and were used by gangs to commit rape, murder, and torture.
Others were left behind by their owners as they escaped the never-ending gang fighting, whereupon the gangs either took possession of them to house their relatives or robbed them of their valuables.
The government of El Salvador's president, Nayib Bukele, has begun to recapture abandoned gang houses in order to hand them over to neighborhood residents as part of a new social housing initiative to complement his strict security policies.
Audelia Rosales, a primary school teacher, received her home with the aid of a low-interest government loan.
She takes me through the repairs they have made to the small home, including patching up a hole in the wall that the gangs had been using as a means of escape whenever the police had conducted a raid in the area.
According to Audelia, it was difficult to see the gangs' expansion and power while living in La Campanera during the 1990s, BBC reported.
"We lost our freedom. My children couldn't play in the street or in the parks. They grew up cooped up inside, their whole childhoods."
After more than 65,000 individuals have been detained since the government's war on gangs began a year ago, according to Audelia, her long-suffering neighborhood is beginning to lose its reputation for violence.
"For years, I never said where I lived. People often couldn't find work, there was such stigma about living here. But now I say it proudly: I'm from La Campanera!", she said.
Such areas are gradually returning to normal life. Once off-limits to outsiders and the police, fast food delivery workers have returned.
And nearby, teenagers from neighboring areas are playing football in the middle of the morning.
Even though it might not seem noteworthy, the young teams' matchup between San Antonio and San Jose is impressive.
"This new security is here to stay", says Erik, one of the coaches. "Many of those gang members will be in jail until they're 90, 100 [years old], or won't ever be let out. This generation will grow up in a healthier, gang-free environment."
The two areas were formerly under the control of rival factions of El Salvador's notorious 18th Street gang, namely the Sureños and the Revolucionarios. The divisions were so intense that children from one side were not even allowed to enter the opposing neighborhood, let alone organize a game of football.
However, now regular football matches are held on the worn-out artificial pitch in San Antonio.
The military-led crackdown on gangs has not only restored civic pride and recreational activities to these former gang strongholds but has also had a significant impact on crime throughout El Salvador. The murder rate, once considered the highest in the world, has dramatically decreased.
Nevertheless, this security policy is highly controversial, potentially making it the most contentious one in the Americas. Human rights organizations argue that thousands of individuals with no gang affiliations have been arbitrarily detained, often on weak or unsubstantiated grounds.
One evening in May of last year, the police arrived at the residence of labor union leader Dolores Almendares, took her away, and informed her that it was based on an anonymous tip-off.
For the following seven months, she was unable to see her children.
She recounts enduring dreadful prison conditions, which included severely overcrowded cells with just one toilet for over 230 people. Dolores considers her treatment to be a form of "torture."
The Bukele administration asserts that the International Committee of the Red Cross (ICRC) has been granted access to the prisons, and the ICRC in El Salvador confirms that it has conducted regular assessments of the prison conditions.
However, the ICRC's findings and recommendations, based on their observations during the government-imposed state of exception, are not publicly disclosed.
Dolores firmly believes that her arrest was unconstitutional and unlawful.
"It was a kidnapping by the state. If you've done something wrong, then you have to pay - but if you haven't, it's privation of liberty, and that's kidnapping. I'd committed no crime, so I shouldn't have been in prison," she argues.
"We are not capturing innocent people," Security Minister Gustavo Villatoro said. "We don't want to arrest anyone who offered the gangs support, but who did so because they had no choice. What we're currently analysing is whether those who collaborated with the gangs did so because they were trying to become a gang member or had been forced to provide them with support."
Dolores is unimpressed by the official justification for her detention. "I hate this government," she says simply.
"They should investigate people using the constitution. They're supposed to set a good example. They won't eradicate violence if they generate more violence themselves."
© 2023 Latin Times. All rights reserved. Do not reproduce without permission.