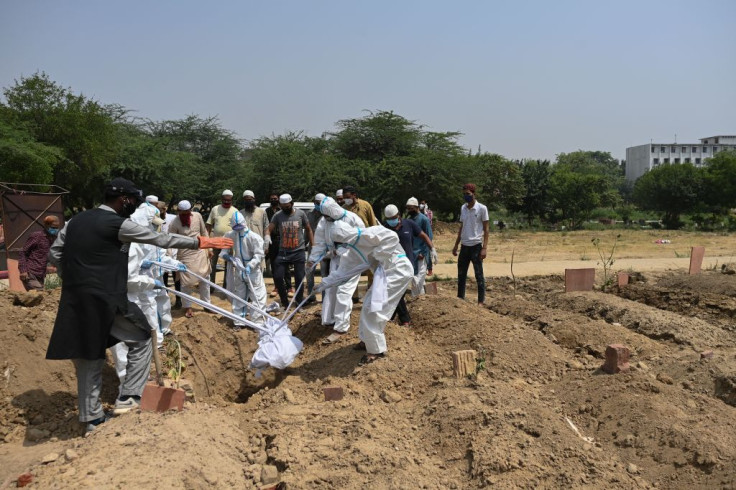 A Covid-19 patient died gasping in his wife's arms after all three hospitals they visited reportedly had a shortage of medical oxygen. The man died on his way to the fourth hospital which apparently had a cylinder to spare. The incident happened in the city of Agra, India.
The heartbreaking pictures of the woman performing life-saving measures on her dying husband have led to a furor on social media.
Renu Singhal acted instinctively and put her own life at risk to save her husband. The pictures show the 45-year-old performing mouth-to-mouth resuscitation on her husband who was Covid-19 positive.
According to experts, this isn't a procedure recommended to be performed on highly infectious COVID-19 patients.
Ravi died in his wife's arms inside an auto-rickshaw they had been traveling in. The couple was on their way to the fourth hospital after three hospitals they visited earlier ran out of oxygen cylinders.
The woman shared her gut-wrenching story with the reporters who found her after the pictures went viral on the internet.
Singhal said that on April 24, her husband told her he can't breathe. She then rushed him to the hospital in an auto-rickshaw after an ambulance wasn't available.
The man's condition worsened, as they went from one hospital to another. She said her husband was so weak that he couldn't even walk into the emergency room.
The hospital staff was also not immediately available for help as Ravi was a Covid patient. He had a high fever and was in home isolation.
"None of the three hospitals we visited had any oxygen left. They said they would admit my husband if we came back with an oxygen cylinder," Singhal told Telegraph India.
They were at the fourth hospital that apparently had oxygen, but there was no staff to assist her husband into the emergency room, she said.
Hence, Renu performed life-saving measures on her husband while desperately pleading for help.
The man had died by the time hospital staff responded to the crying woman. The hospital pronounced the man dead on arrival.
Renu is currently in quarantine. Her Covid-19 test results are being awaited.
According to Dr. O.P. Yadav, District President of the Indian Medical Association, about ten hospitals in Agra had to discharge thousands of COVID-19 patients because of lack of oxygen.
Meanwhile, Dr. Surendra Singh of Yashwant Hospital in Agra alleged that the state government had promised to provide 50 oxygen cylinders, however, only 5 cylinders were sent over the past 10 days.
"We discharged our (Covid) patients when we had no option left," he said.
The incident happened in the realm of Chief Minister Yogi Adityanath who recently claimed there was no oxygen shortage in the state. He said that the hospitals were spreading unnecessary fear.
"Keep a watch on such people. Duly investigate all such incidents. If the scarcity was reported just to create fear, then strict action should be taken against the concerned hospital," the Chief Minister said, The Hindu reported.
India reported more than 3,79,257 fresh coronavirus infections and 3,645 deaths on Thursday, April 29.
© 2023 Latin Times. All rights reserved. Do not reproduce without permission.