Walt Disney Animation is know by many to be a juggernaut in children's programming. They have been responsible for both critically and commercially acclaimed projects, like Coco and Encanto, that have brought magic to the hearts of children and adults alike. Despite their successes, Disney is now running into controversy with the release of promo for their latest show Primos.
The new show follows the story of a young girl named Tater who must deal with 12 of her cousins moving in under one roof for the summer. Early opposition against the show began when the company revealed the title song and premise over social media, leading Disney to remove all posts shortly after.
Many critiques stem from members of the Latino community who believe that the show falls into the same negative tropes and stereotypes often associated with Latinos. The show is even being criticized for it's lack of proper Spanish as the term "Oye Primos" is used instead of the grammatically correct "Oigan Primos", in it's main theme song. People have taken to social media to express their frustrations.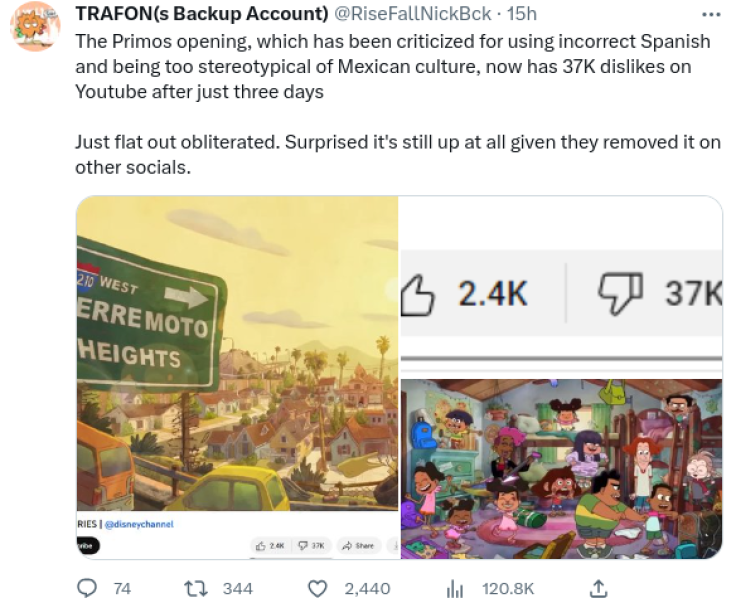 Thus far, Disney has not release any official statements on how they plan to address the controversies. Since the push-back began, creator of the show "Natasha Kline" has made her Instagram private and has not given any formal statements either. Time will tell if the show will attempt to "fix" what many view as politically incorrect or if the show will be scrapped overall.

© 2023 Latin Times. All rights reserved. Do not reproduce without permission.